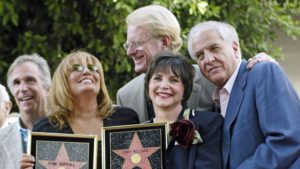 By Kristi O'Toole
Hollywood actor, director, writer and producer Garry Marshall is gone at age 81. The comedy giant known for such hits as 'Happy Days', 'Pretty Woman' and 'The Princess Diaries' died at 5 p.m. PT Tuesday from complications of pneumonia following a stroke at a hospital in Burbank, California his representative Michelle Bega confirmed. Marshall was the older brother of actress and director Penny Marshall.
A beloved figure in show business, Marshall leaves behind a legacy as a hit maker on television and in films, a comedian with impeccable delivery, and a warm personality to those he encountered.
NewzBreaker extends our condolences to the Marshall family in their time of grief.
When Kristi isn't writing for NewzBreaker, she writes supernatural suspense novels having three currently published. If you would like to check out any of her books they can be found online and at other major retailers like Books a Million and Amazon. Never one to rest, she also paints/designs shoes and items for the home. Check out her eBay store, Watered Down Vodka and her FB page.
Comments or questions are welcome.