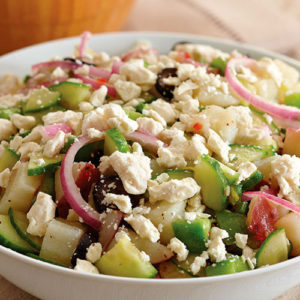 By Kristi O'Toole
Look, po-tay-to/ po-tat-o no matter how you slice it you can't go wrong. This is an awesome spin on a cook-out classic.
Ingredients:
• 2 pounds unpeeled red potatoes, cut into 1/2-inch cubes
• ½ cup water
• 1 lemon
• ½ cup Italian salad dressing
• 1 green bell pepper, diced
• ½ cup thinly sliced red onion
• 1 medium cucumber, thinly sliced
• ½ cup sliced pitted ripe olives
• 1 package (8 ounces) crumbled feta cheese
• Salt and ground black pepper to taste
• 8 pita bread rounds (optional)
Directions:
Cut potatoes into 1/2-inch cubes using Crinkle Cutter. Place potatoes in Large Micro-Cooker®; add water and cover. Microwave on HIGH 7-10 minutes or until potatoes are tender when pierced with a fork; drain. Cool potatoes quickly by placing under cold running water; drain.
Zest lemon using Zester/Scorer to measure 2 teaspoons zest. Juice lemon to measure 1 teaspoon juice. In Small Batter Bowl, whisk lemon zest, juice and dressing until well blended using Stainless Whisk.
Dice bell pepper using Utility Knife. Thinly slice onion and cucumber using Ultimate Mandoline; cut cucumber slices into quarters. Toss potatoes, bell pepper, onion, cucumber and olives in large serving bowl. Pour dressing mixture over potatoes; toss to coat. Sprinkle cheese over salad; season with salt and black pepper. Refrigerate until ready to serve. Serve with pita bread, if desired.
Kristi stays busy with her writing, shoe designing and Pampered Chef business so she knows how precious time can be; she also knows how important eating healthy and showing your children life beyond fast food can be. The Pampered Chefs Happy Families segment is designed with busy lives in mind. The recipes presented will be fast, easy and affordable to everyone. The tools you need to complete these meals can be found on her personal website.
Comments or questions are welcome.