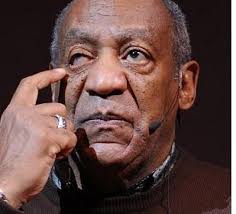 By Kristi O'Toole
Bill Cosby is suffering from a degenerative eye disease and living in his "own personal hell," outlets have reported. Bill Cosby faces allegations of rape and sexual assault by over 50 women. Bill Cosby is now "completely blind," said a well-placed source. Some would say much like his wife over the last several decades. The disgraced comedian once known as "America's Dad" is now confined to his Pennsylvania home with only his incomprehensibly loyal wife, Camille, at his side.
The source close to Cosby says, "His alleged victims may take some solace in the fact that he's in his own personal hell. He has been suffering from a degenerative eye disease and is completely blind. All his Hollywood friends have turned their backs on him."
It seems the only friends the once superstar comedian has left are the ones he pays, a small circle of defense lawyers.
When Kristi isn't writing for NewzBreaker, she writes supernatural suspense novels having three currently published. If you would like to check out any of her books they can be found online and at other major retailers like Books a Million and Amazon. Never one to rest, she also paints/designs shoes and items for the home. Check out her eBay store, Watered Down Vodka and her FB page.
Comments or questions are welcome.