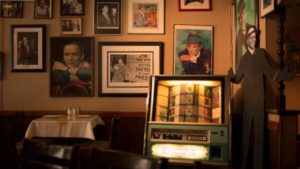 By Jerry Pearce
In July 1984, the political climate was hot with speculation. Setting off on a vast campaign trail, Ronald Reagan was determined to be elected to a second term as President of the United States. His nationwide itinerary included a visit to the city of Hoboken, New Jersey, and the annual Feast of St. Ann held each summer in front of St. Ann's Church on 7th and Jefferson Streets. This stop must have pleased the President somewhat, for he had with him a major campaign booster who came along for the ride, a man who was closely associated with the one-mile square town, someone who could show him the ropes around this familiar territory. It was his friend, Frank Sinatra.
Sinatra had been associated with the Reagan's for decades, dating back to times long before politics, when both Sinatra and Reagan were both rising stars in the business of entertainment. They would develop a friendship, and many years later, when Reagan entered the political arena as a Presidential hopeful, he would find support from the Chairman, who spearheaded fund raising drives and donated more than $4,000,000 to his election campaign. Already a supporter of Reagan since his days as Governor of California, Sinatra was perhaps the most high-profile celebrity associated with both the 1980 and 1984 Presidential campaigns. He would take it upon himself to organize the President's inaugural galas, and all of his support led to invitations to the White House for state dinners, private concert performances for various dignitaries, as well as the awarding of the Presidential Medal of Freedom to Sinatra by Reagan in 1985.
Archived photographs from that day's historic Hoboken visit include a smiling Sinatra pictured in the rear church courtyard with the President as well as New Jersey Archbishop Peter Gerety and then-current Governor Thomas Kean. A large "Welcome Home" banner was displayed nearby, warmly welcoming Sinatra back to his hometown.
To many, it was believed that this was Sinatra's first visit to Hoboken since he left aboard a ferryboat for the glitzy towers and career aspirations of nearby Manhattan more than forty years before.
If only that was the truth.
Five blocks southeast of the church sits the inviting façade of a corner restaurant at the address of 200 Grand Street. Standing outside, you'll first notice two things. The smell of good food, and, as the door opens and closes on the elegantly appointed bar area, the sound of Sinatra classics wafting out into the breeze from the jukebox inside. This is Leo's Grandevous, and, now approaching its 76th year in business, is as large a legend as Sinatra.
Proprietor Leo DiTerlizzi was only twenty-two years old and in his first year of marriage to his beloved Tessie when he decided to open a tavern in the space below their apartment at 200 Grand in July of 1939. An elongated half-moon of a bar dominated the front portion of the facility, with the back giving way to a gaming room that included shuffleboard and billiards tables. While his business mounting to success, Leo had a part time interest in keeping up with the budding career of one of his friends, young fellow resident and customer, Frank Sinatra. Already a fan of the singer since his days not long before, with the local singing group the Hoboken Four (which became a fixture on the Major Bowes' Original Amateur Hour), Leo followed Sinatra's career as he moved onto the nearby Rustic Cabin in Englewood Cliffs, then to the big bands of Harry James, Tommy Dorsey, eventually to his solo career. During this time throughout the 1940s and 1950s, Frank would keep in contact with Leo, and it would be the Grandevous that Frank marked as an important stop during his late-night clandestine visits to his old hometown. Riding in a darkened limousine, locals knew what it meant when they saw the vehicle carousing the streets occasionally, and kept the inside information hushed.
With Leo and Tessie maintaining their apartment above the tavern, Frank and his party would sneak upstairs to their place for a visit and be served Italian dishes in Tessie's kitchen, which he enjoyed immensely. Although the common fact accepted by most Sinatra fans was that he hated his time in Hoboken and was happy to leave and never return (jokes related to Hoboken and New Jersey in general could be found amongst the monologues in many of his concert performances, including Sinatra at the Sands, The Main Event, and Live at the Meadowlands), he remained loyal to a select group of friends and the delicacies they made that he grew to love.
After Leo's, it was onto Dom's Bakery, further down on Grand Street, for fresh bread, Fiore's on Adams Street for homemade mozzarella cheese, then to a German bakery on Washington Street for their special recipe of crumb cake, which he savored. In the early 1960s, Bartolo Valastro purchased the German bakery and renamed it after his father, Carlo, who began their family baking business at the turn of the 20th Century. Today, it is world renowned, owned and operated by Valastro's son Buddy, star of the TLC reality show "Cake Boss," which centers around the bakery. With the sale of the property, came the famous crumb cake recipe. It is still sold on Washington Street by Carlo's today. His secret jaunts would continue throughout the 1950s, and when he couldn't make it there physically, shop owners, including Leo and his Sinatra-beloved pizza, would ship their goods out to him in California.
As Frank was changing the record industry with his classic albums for Capitol Records, Leo's was going through changes as well. Tessie had gotten into the habit of cooking food upstairs in the apartment and bringing it down to the bar to offer to patrons, and this began the evolution to a full-fledged restaurant. Billiards tables and shuffleboard soon gave way to additional dining tables. Beyond that, Leo's garage was gutted completely and built into a kitchen. With that, the legend was born. As an interesting side note, the tables that found their way into what is now the main dining room in the 1950s are still in use today, in immaculate condition.
Like nearly every Italian business, Leo's is a family stronghold, ownership and management now in the hands of the fourth generation of the DiTerlizzi clan, this being Leo and Tessie's grandchildren, Nicholas and Grace. Leo and Tessie would both pass away within a few months of each other in 2001, but they leave behind a rich history and legend centering around their iconic address and the man who loved their friendship and food. In addition to being entered as a notable site on the Frank Sinatra walking tour of Hoboken in conjunction with an exhibit at the Hoboken Historical Museum, the restaurant is sailing into new exciting waters and diners by participating in an upcoming "Hudson County Restaurant Week," one of nearly forty bars and restaurants doing so between Hoboken, Jersey City, and Weehawken, at the end of July 2016.
The one thing that will intrigue you, besides the food (Shrimp Sinatra is among the menu offerings), is the restaurant's interior. As the 1950s progressed, the pattern of Sinatra memorabilia dotting the interior of the restaurant began in earnest, first by Leo, and then by customers who visited near and far. Over the years, the majority of wall space throughout the restaurant was covered with Sinatra fare. Above the intricately designed buff and stained glass art of the bar, oversized bottles of Jack Daniels and mint packaged Sinatra Barbie dolls lead wandering eyes to an unopened bottle of Jack Daniels Sinatra Select, encased in glass. One of a kind photographs adorn the walls, among them, two photos of Frank during his Hoboken visit in 1984, the visit so many thought was his first since he left for stardom (He would return again, clad in cap and gown the following May to accept an honorary degree from nearby Stevens' Institute).
Nearby, a large jukebox dispenses Sinatra tunes at random. Upon an overlook, one will see that it contains wall to wall Sinatra albums.
To call Leo's Grandevous, the interior virtually unchanged since its inception, a shrine to Sinatra, is quite the understatement.
**Special thanks to Linda Milne, manager and family friend of Leo's for nearly thirty-six years and a valuable source of information relating to Sinatra and his visits to the restaurant; also to Leo's granddaughter, general manager Grace Scianalepore, who allowed me to come in a bit before business hours to conduct the interview. From my own personal experience, I recommend the gnocchi as well as the meatballs. Tessie's marinara is phenomenal!!**
Until next time, Sinatra lovers!
Jerry Pearce is an amateur singer in the vein of Frank Sinatra, Perry Como, and Dick Haymes and has released two discs of standards music, Crossroads in 2010, and One Summer Night in 2016. Samples of his music can be heard on his YouTube Channel. To purchase his CDs use the form box below.
Comments or questions are welcome.