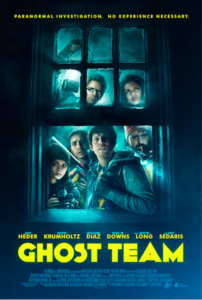 Exclusively debuting on Google Play July 21st before it hits theaters August 12th. The film will expand to additional On Demand platforms later this summer.
See the UNRATED version of GHOST TEAM, only On Demand!
GHOST TEAM
—————————-
Starring: Jon Heder, David Krumholtz, Melonie Diaz, Paul W. Downs with Justin Long and Amy Sedaris
Directed by: Oliver Irving
—————————-
Synopsis
Determined to catch some ghosts on film, a paranormal-obsessed man mounts his own investigation into the beyond with his depressed best friend, misfit nephew, a whip-smart beautician, a cable access medium and an overeager security guard by his side.