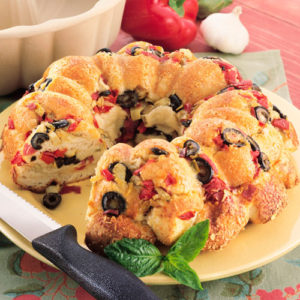 By Kristi O'Toole
This incredibly easy side dish could very well serve as a main dish as it's hearty nature is quite filling.
Ingredients:
1 jar (6 1/2 ounces) marinated artichoke hearts, drained
• 1/3 cup sliced deli hard salami, chopped
• 1/3 cup red bell pepper, chopped
• 1/2 cup pitted ripe olives, sliced
• 2 garlic cloves, pressed
• 1/4 cup butter or margarine, melted
• 4 ounces fresh Parmesan cheese, grated (about 1 cup)
• 2 packages (11.3 ounces each) refrigerated dinner rolls
Directions:
Preheat oven to 375°F. Spray Stoneware Fluted Pan with olive oil using Kitchen Spritzer Place artichokes on paper towels; pat dry. Chop artichokes, salami and bell pepper using Food Chopper; place in Small Batter Bowl. Slice olives using Egg Slicer Plus. Add olives and garlic pressed with Garlic Press to Batter Bowl; mix lightly and set aside.
Melt butter in Covered Micro-Cooker on HIGH 30 seconds. Using Rotary Grater, grate Parmesan cheese into Classic Batter Bowl. Separate dinner rolls and cut each into quarters using Professional Shears. Dip 16 dough pieces in melted butter, then roll in cheese. Arrange evenly in pan. Sprinkle with 1/2 cup of the artichoke mixture. Repeat twice. Dip remaining 16 dough pieces in melted butter, roll in cheese and arrange over last layer of artichoke mixture. Sprinkle with any remaining cheese. Bake 27-30 minutes or until deep golden brown. Cool 5 minutes on Stackable Cooling Rack. Loosen edges of bread from side and center of pan with Citrus Peeler. Carefully invert onto Cooling Rack to remove bread. Cool slightly. Slice with Bread Knife.
Kristi stays busy with her writing, shoe designing and Pampered Chef business so she knows how precious time can be; she also knows how important eating healthy and showing your children life beyond fast food can be. The Pampered Chefs Happy Families segment is designed with busy lives in mind. The recipes presented will be fast, easy and affordable to everyone. The tools you need to complete these meals can be found on her personal website.
Comments or questions are welcome.