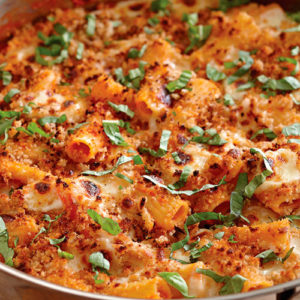 By Kristi O'Toole
This easy and delicious meal is sure to please.
Ingredients:
1 lb (450 g) uncooked rigatoni pasta
• 1 jar (24 oz or 700 mL) marinara sauce
• 1/4 cup (50 mL) chopped fresh basil, divided
• 3 garlic cloves, pressed
• 1/2 tsp (2 mL) red pepper flakes (optional)
• 1 cup (250 mL) fresh bread crumbs
• 2 tbsp (30 mL) butter, melted
• 8 oz (250 g) mozzarella cheese, cubed
Directions:
Cook pasta according to package directions. Drain pasta, reserving 1 1/2 cups (375 mL) of the pasta cooking water; set aside and keep warm.
Meanwhile, in Stainless 12" Skillet (do not use executive cookware), combine marinara sauce, half of the basil, garlic and pepper flakes, if desired. Bring to a simmer over medium heat; cook 10-12 minutes, stirring occasionally.
Meanwhile, combine bread crumbs with melted butter; mix well. Preheat broiler on HIGH. Add cooked pasta and reserved pasta water to sauce; toss to coat. Sprinkle evenly with cheese cubes and top with bread crumb mixture. Place Skillet as close as possible to heating element. Broil 5-7 minutes or until cheese is melted and bread crumbs are golden brown. Sprinkle with remaining basil; serve immediately.
Kristi stays busy with her writing, shoe designing and Pampered Chef business so she knows how precious time can be; she also knows how important eating healthy and showing your children life beyond fast food can be. The Pampered Chefs Happy Families segment is designed with busy lives in mind. The recipes presented will be fast, easy and affordable to everyone. The tools you need to complete these meals can be found on her personal website.
Comments or questions are welcome.