Loading ...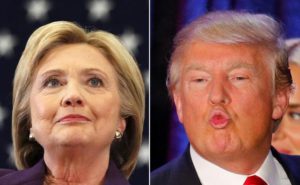 By Kristi O'Toole
To say this year's election has been a bit of a circus would be an understatement. Here we are just months away from voting and what are we left with? A gobby guy that has zero political background and another gobby guy-wait sorry, gobby lady that possibly has too much political background with parts of it being quite shady.
Let me just say I no longer have a horse in this race as my man, Ben Carson stepped out ages ago. That's right, I said Carson. So now that we're left with seemingly only two choices, dumb or dumber, there's a potential new threat on the horizon.
I read an article this morning regarding electoral votes and what if neither candidate receive enough. First, what is an electoral vote? Electoral vote is the collective choice of the electoral college determining the next president or vice president. As it turns out, if neither candidate receives enough electoral votes then it's up to the House of Representatives to make a fair and balanced choice between the top three candidates with the most votes. *coffee spit* Wait, fair and balanced and our government mix about as well as oil and water.
While you may scoff and say that's never going to happen, the number of people I know personally who have come out and said they've no intention of voting at all this political year is staggering. It's scary to think that there are people who choose not to use their right to vote, but when you look at the remaining candidates to some it's a case of the lesser of two evils.
So now my question is this. Why is it the lesser of two evils? Why are we left with only candidates that honestly have no business running for President? Trump has struck a nerve with the American people. We're tired of being walked on and we're tired of double standards and were sick of looking weak in front of the rest of the world. But know this, he wags that stupid finger in the face of the likes of Putin or Kim Jong-un and he'll be the one getting fired (at). And quite frankly I don't care if she's innocent or guilty but if a person isn't fit to run her email inbox she certainly is fit enough to run our country. My three year old is more tech savvy than Clinton is.
While I may no longer have a horse in this race, I certainly do have a dog in this fight and that's my son. He left just yesterday for USAF BMT. He enlisted to serve our country despite having the option to attend college, despite potential sports scholarships and despite my prayers against it.
Not so long ago this nation was a great one (I can hear your gasps), one nation under God, indivisible, we all know it; or maybe we don't since they took the pledge of allegiance and God out of our schools. There was a time I would have encouraged my sons, either of them to enlist, serve and protect this great nation and now all I can think of is my kid may have to serve under the likes of that guldering ass hat Clinton.
So what's the answer? A complete overhaul of government and the reinstatement of Jesus Christ my friends. For the sake of turning this into a back holler-snake kissing sermon I'm going to end this, but until we are again united in race, creed and a love for our nation things will not get any better. It's one nation under GOD, not someone with a God complex.
When Kristi isn't writing for NewzBreaker, she writes supernatural suspense novels having three currently published. If you would like to check out any of her books they can be found online and at other major retailers like Books a Million and Amazon. Never one to rest, she also paints/designs shoes and items for the home. Check out her eBay store, Watered Down Vodka and her FB page.
Comments or questions are welcome.