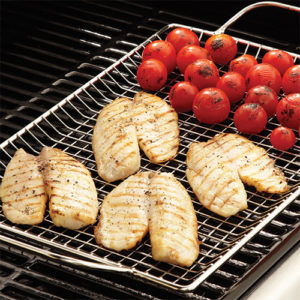 By Kristi O'Toole
Ingredients:
• 2 tbsp (30 mL) fresh lemon juice
• 2 tbsp (30 mL) olive oil, divided
• 1 tbsp (15 mL) finely chopped fresh basil leaves
• 1 tbsp (15 mL) finely chopped shallot
• 2 tsp (10 mL) capers, drained
• 3/4 tsp (4 mL) salt, divided
• 1/2 tsp (2 mL) coarsely ground black pepper, divided
• 4 tilapia fillets (4 oz/125 g each)
• Nonstick cooking spray for grilling
• 2 cups (500 mL) cherry tomatoes
Directions:
In a small mixing bowl, combine juice, 1 tbsp (15 mL) of the oil, basil, shallot, capers, 1/2 tsp (2 mL) of the salt and 1/4 tsp (1 mL) of the coarsely ground black pepper. Brush fillets with remaining oil and season with remaining salt and black pepper.
Prepare grill for direct cooking over high heat. Spray BBQ Grill Tray with nonstick cooking spray for grilling. Preheat tray on grill grid 3 minutes. Place tilapia and tomatoes on separate sides of tray. Cover and grill 5-7 minutes or until tomatoes are charred and tilapia is cooked through, turning tilapia once (do not turn tomatoes). Add tomatoes to caper mixture; mix well. Serve tilapia with tomato relish.
Kristi stays busy with her writing, shoe designing and Pampered Chef business so she knows how precious time can be; she also knows how important eating healthy and showing your children life beyond fast food can be. The Pampered Chefs Happy Families segment is designed with busy lives in mind. The recipes presented will be fast, easy and affordable to everyone. The tools you need to complete these meals can be found on her personal website.
Comments or questions are welcome.