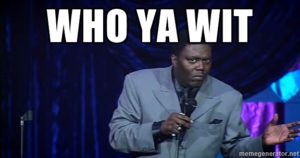 By Elder Hugh Tarrer
It was the dearly departed comedian Bernie Mac who had the foresight to trademarked the phrase "Who you wit?!" This was a phrase that I and several others had heard virtually all our lives, but with the theological principle of progressive revelation, and given today's atmosphere, it has taken on an even more and deeper meaning. As I draw nearer to God daily in these latter days months and years of my life. I reminisce on how we used to ask this question at pep rallies, and gatherings mainly referencing the home team or whoever you were pulling for in an athletic competition. My studies and meditation have revealed to me a need for urgency to clearly define and declare this pivotal and pointed question. A question that speaks to our soul and spirit as we progress in our salvation; sanctification; sonship.
The question "Who you wit?!" as it pertains to the following of Jesus Christ of Nazareth the Son of the Living God has become a litmus test for radical Islamic terrorist namely ISIS or Daesh all over the world or face the consequences including and up to beheadings says all you need to know. Mainly those whom are saved and declare their belief in God who raised Jesus from the dead and confess with their mouths Jesus Christ is Lord, are walking out in literally and spiritually the answer without equivocation. You know who we are with. And if the radical Islamic terrorists are that correct would there be a need for the murder and persecution Christians? Or is it all for publicity, selfish ambition, or the fact that they are being used by the devil himself.
Jesus declares "the thief come but to still kill and destroy but I come that you would have life and have life more abundantly." You cannot serve two masters and "Whoever is not with me is against me." After all followers of Christ do not go out beheading, and committing terroristic acts all around the globe, because we don't have to. We are a big tent, relation oriented loving principled following because Mark 9:40 declares "For whoever is not against us is for us. This tells all whom love, and enjoy peace, and joy, and meekness, and gentleness and goodness we employ ourselves unto you as servants of Jesus, who's goal is to give you eternal life through Him.
Islamic terrorist and others whom do not believe are manipulated by a force that has blinded their minds from a light of knowledge. The devil is a builder of chaos as to just not know. John 8:44 says "Ye are of your father the devil, and the lusts of your father ye will do. He was a murderer from the beginning, and abode not in the truth, because there is no truth in him. When he speaketh a lie, he speaketh of his own: for he is a liar, and the father of it." And because I tell you the truth, ye believe me not. He that is of God heareth God's words: ye therefore hear them not, because ye are not of God.
I'll just end by asking the simple question; Who you wit?!
Comments or questions are welcome.