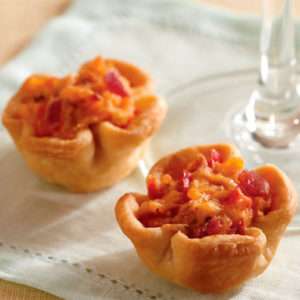 By Kristi O'Toole
The bottom line on this snack is after 'bacon and cheddar' nothing else needs said.
Ingredients:
1 pkg (15 oz/425 g) pie crusts (2 crusts), softened according to package directions
• 8 slices bacon
• 2 plum tomatoes
• 1 cup (250 mL) shredded cheddar cheese
• 4 oz (125 g) cream cheese, softened
• 2 tsp (10 mL) Dijon mustard
• 1 garlic clove, pressed
• Sliced green onions and additional diced tomato (optional)
Directions:
Preheat oven to 400°F (200°C). Unroll pie crust onto lightly floured surface. Spacing closely together, cut 12 disks from crust using outer tube of Measure-All® Cup (nine around outside edge and three in center). Press disks into wells of Deluxe Mini-Muffin Pan using Mini-Tart Shaper. Repeat with remaining crust. Bake 8-10 minutes or until golden brown.
Meanwhile, stack bacon; thinly slice using Utility Knife. Cook bacon in (8-in./20-cm) Sauté Panover medium-high heat 10-12 minutes or until crisp. Remove bacon to paper towel-lined plate; cool slightly. Meanwhile, cut tomatoes in half using clean Utility Knife; scrape out seeds and dice. Chop bacon with Food Chopper. In Classic Batter Bowl, combine bacon, tomatoes, cheddar cheese, cream cheese, mustard and garlic pressed with Garlic Press; mix well.
Remove pan from oven to Stackable Cooling Rack. Using Adjustable Measuring Spoon, fill each cup with about 1 tbsp (15 mL) of the cheese mixture. Bake 5-7 minutes or until cheese is melted. Garnish with green onions and additional tomato, if desired.
Kristi stays busy with her writing, shoe designing and Pampered Chef business so she knows how precious time can be; she also knows how important eating healthy and showing your children life beyond fast food can be. The Pampered Chefs Happy Families segment is designed with busy lives in mind. The recipes presented will be fast, easy and affordable to everyone. The tools you need to complete these meals can be found on her personal website.
Comments or questions are welcome.