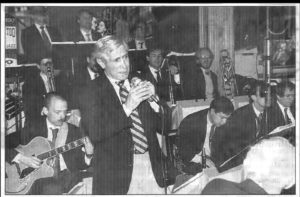 By Jerry Pearce
In the midst of the 1980s, when hot jazz venues like Marty's, Michael's Pub, Gregory's and the Village Vanguard were common vocabulary on the lips of music lovers in the greater New York City region, veteran singer David Allyn was preparing to open a new big band showcase at the Red Blazer on 46th Street in the heart of Manhattan.
Utilizing a newly formed musical contingent comprised of master instrument players drawn from the orchestral pits of the nearby Broadway theatre district, Allyn was in the midst of putting together his musical program for the upcoming week when he realized he was short on having enough musical arrangements to perform a full concert.
Faced with the prospect of having to repeat songs in order to fill out the time slot allotted by the club to his new band, Allyn remembered the friendly words of an old pal from the West Coast, words that told him if he ever needed anything, he shouldn't hesitate to pick up the phone. Allyn immediately put a call through to the offices of his friend, Frank Sinatra.
At first, Allyn would speak to a man named Irving Weiss. Known by many in the Sinatra canon as "Sarge," Weiss had been a Sinatra business associate for many years and was in charge of all publishing interests regarding the Sinatra name, including the cataloging and control of Sinatra's vast library of musical charts that had been written for him over the years by various song arrangers. Explaining his predicament, Allyn was unfortunately told by Weiss that Frank never lent his charts out to anyone, not even son Frank Sinatra, JR. Finding himself in a bind and hoping that Frank would come through for him, Allyn asked Weiss to pass along the word to Sinatra anyway. Weiss agreed, and Allyn patiently waited for a call back.
At this point in time, Sinatra and Allyn had known each other for the better part of forty years. They both began in their careers as singers attached to the notable big bands of the 1940s, Sinatra with the sounds Harry James and Tommy Dorsey, Allyn with the sounds of the great Jack Teagarden. While Sinatra was deemed unqualified for military service due to a punctured eardrum at the outbreak of the Second World War, Allyn served in the United States Army in the First Infantry Division. Landing across North Africa and battling against German and French troops, Allyn was injured in combat in 1943 and awarded the merit of the Purple Heart.
Returning to civilian life, Allyn joined the orchestra of Boyd Raeburn and served as their boy singer through 1946, when the ensemble disbanded. Allyn would then record sides with other groups for the next few years, trying to make it as an independent vocalist as Sinatra had, though some would say his stint in the military caused him to "miss his window." Things were looking up in 1949 when he was contracted by the burgeoning Discovery Records label to record four songs featuring lush orchestral backgrounds by arranger Johnny Richards, who also happened to be a friend of Allyn's.
Though the finished record was received warmly by audiences, Allyn was entering stormy waters. Heroin seemed to go hand in hand with the music business, especially in the "on the road" scene, and Allyn had succumbed to the temptation. First using while serving with the Raeburn orchestra, it exploded into full-fledged addiction by the 1950s. Convicted of forging drug prescriptions near the middle of the decade in order to support his habit, Allyn would go on to serve nearly two years in prison for the charge, erstwhile going through heroin withdrawal and successfully kicking his habit while in prison. The experience served as a lesson for Allyn, who would never use drugs again.
Upon release in 1957, thanks to some friends he had made before his addiction began, Allyn was signed to World Pacific Records in Hollywood, an offshoot company of the successful Pacific Jazz Records led by Allyn's friend Dick Bock. Allyn would join forces with friend Johnny Mandel, once a trombonist in the Boyd Raeburn band and now an in-demand arranger and composer, to create a tribute album of songs centered around composer Jerome Kern. Recorded at Capitol Studios, the album "A Sure Thing: David Allen Sings Jerome Kern," was a smash hit, and is today considered one of the finest recorded works featuring Kern's music. (Mandel would later arrange Sinatra's first album for his Reprise label, "Ring A Ding Ding," in 1960).
In the following two years, Allyn would record two more albums, another for World Pacific ("Let's Face the Music & Dance" with the Bill Holman Orchestra), and one for Warner Brothers Records ("I Only Have Eyes For You" with David Terry) and would soon become a steady presence at jazz clubs and cabarets throughout the country. While he possessed perhaps one of the smoothest and most refined voices in his music bracket, the effect of his past always seemed to leave him chasing success.
Friends would try to help. Sinatra, always an admirer of his voice and work, had him booked in the lounge at the Sands Hotel during the 1960s, while he controlled an interest in the property. Actor Tony Curtis was a big fan of Allyn along with his wife Janet Leigh, and arranged for David to record a new album backed by a top-notch big band led by Bob Florence. The album, "This Is My Lucky Day," was released by Everest Records in 1964.
A reunion album with Johnny Mandel soon followed, recorded in 1966. "In The Blue Of Evening" consists of ten lush ballads and medium tempo songs expertly arranged by Mandel, is a step above their first collaboration. Two other albums would follow in 1975 ("Don't Look Back" with pianist Barry Harris) and 1981 ("Soft As Spring" with Loonis McGlohan and trio), with David hanging up his microphone at intervals to work in counseling with Narcotics Addiction groups and a bevy of other occupations, even semi-retiring at one point to the Midwest in the early 1980s before being coaxed back to the Big Apple to thrill people with his voice once more.
The phone rang once again. Picking it up, Allyn immediately recognized the voice of Sinatra. David hurriedly explained that he had started a band, and Sinatra, always thoughtful of people who were keeping the music he loved to sing in the relevant eyes of the public, was more than happy to help him. Telling David that he had hundreds of charts in his library, Sinatra gave Allyn access to his entire catalog and wished him the best of luck. Hanging up the phone on his end, Sinatra, mindful that his style of music was waning as the years proceeded, reportedly told his secretary that he was excited that a singer was going to be singing his music before an audience. The Red Blazer engagement proceeded, and David would find himself a staple of the jazz/standards scene in the New York area, for several more years to come.
Allyn never forgot Sinatra's act of kindness, and would pay tribute to him come the turning of the century. In 2002, Allyn traveled to Spain to perform in a special jazz festival hosted by the Jazz Terrassa Big Band. While there, Allyn recorded a new studio album with the ensemble led by director John DuBuclet, "Playing The Field," and paid tribute to the Chairman with recordings of "Fly Me To The Moon" and "The Best Is Yet To Come," utilizing the arrangements Frank had given him so many years before.
After a long illness, David Allyn passed away in November of 2012. His discography, though a bit briefer than most of the vocalists of his era, is a true listener's delight. While physical compact discs have long since gone out of print, the majority of Allyn's recorded output is available as digital downloads on most online retailers today. His voice is unique in the sense that his instrument is multifaceted. As smoothly as he can sing a lush ballad, he can swing and scat hard with some jazzy rhythm. Sinatra himself was a fan of this guy. If you haven't heard Allyn before, you'll be a fan yourself before long too.
Until next time, Sinatra lovers!
Jerry Pearce is an amateur singer in the vein of Frank Sinatra, Perry Como, and Dick Haymes and has released two discs of standards music, Crossroads in 2010, and One Summer Night in 2016. Samples of his music can be heard on his YouTube Channel. To purchase his CDs use the form box below.
Comments or questions are welcome.