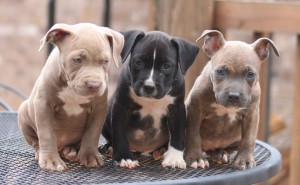 By Cyndi Crossland
This article is to inform our readers that the Pitbull is an extremely sweet breed. When David and I attended our very first adoption event with Fur Babies; there was a little female Pitbull in a kennel who looked so sad, David got a leash took her to the chair near him and we started talking to her and petting her. We did this all that day. She was so attached to David at this point it made us sad to let her go back to boarding. All the way home we talked about her and decided to adopt her, we came back and got her the same day. Long story short Lola (the pit bull) got along with all my tiny Yorkies.
She instantly made herself at home, while being such a blessing to our home. I can count on Lola when I foster bottle babies or puppies or full grown dogs to mother all the babies and makes everyone feel right at home. She doesn't judge or care she is my most loving dog. I believe Pitbull's are a fantastic breed, We love her and she has shown us not to judge a breed by the bad rap they get, give them a chance. Please don't believe everything you hear Pitbull's are loving, sweet dogs.
Check out Fur Babies website and their Facebook Page Fur Babies Adoptions and Rescue.
Comments or questions are welcome.