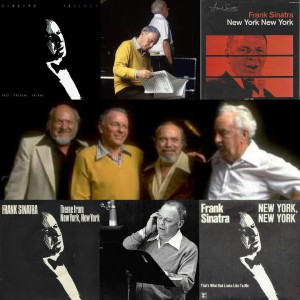 By Jerry Pearce
The year was 1979. With the exception of a handful of single recordings (as well as an aborted attempt with Nelson Riddle in 1977 to record an album based around ladies' names), Frank Sinatra had not recorded a new full-length album in more than five years. Having made his comeback in 1973 with the album Ol' Blue Eyes Is Back, followed a year later with Some Nice Things I've Missed, Sinatra often claimed in the ensuing years that he hadn't found enough good material in order to warrant the recording of a new album. Despite this, one of the most asked questions amongst all of the countless amounts of fan mail he received was as to when he would be releasing a new record.
That spring, Sinatra was prepared to give his fan base an answer.
He was working on a new recording with his pianist and conductor Vincent Falcone when a man named Sonny Burke entered the studio. An important confidant to Sinatra, Burke served as musical director for Sinatra's label Reprise Records and had produced most of Frank's musical output since the early 1960s.
Having worked out the logistics of a new project for the star, Burke ushered Sinatra into another part of the studio to present this new concept. After a few minutes of conversation with his longtime associate, Sinatra emerged and brought a halt to the current recording session, declaring that nothing else would be laid down in the studio until this new project was complete.
This new project was called Trilogy, or Trilogy: Past Present Future, and its status as an album would become as memorable and legendary as the artist who sang the music that would be recorded for it.
Trilogy would consist of three long-play records, each containing its own individual musical program in relation to a certain time period, together forming a musical summation of Sinatra's career up to that point. It would not only employ the work of three different arrangers, but three separate musical ensembles, one of them a philharmonic orchestra with over one hundred and forty pieces including chorus, rivaling the 1963 Sinatra-Nelson Riddle collaboration The Concert Sinatra as being the largest group Frank ever recorded with in his entire career.
Set into motion, the album would be recorded, in order, throughout the summer and early autumn of 1979.
In July, recording proceedings began on the first section of the album (The Past: Collectibles of the Early Years) under the baton of genius composer Billy May, who first rose to prominence with Sinatra as the arranger of the singer's Capitol travelogue record Come Fly With Me in 1957. They would follow that with two additional big band albums at Capitol (Come Dance With Me in 1959, Come Swing With Me in 1961) as well as another album (the similarly titled Swing Along With Me) simultaneously at Reprise in 1961. Although they had worked together on a themed album (Francis A. and Edward K.) with Duke Ellington in the late 1960s, The Past would serve as their first real traditional work in many years, and in many ways could be considered another sequel to their earlier collaborations, due to The Past being a genuine musical throwback to the Sinatra of the 1950s and early 1960s, while recalling even earlier moments in his career.
It's hard to believe that it was nearly 1980 before Frank first sunk his teeth into a song like "It Had to Be You," but that was indeed one of the six tunes he recorded for the first time for this part of the album. The other four of the ten song selection had been recorded previously in his career, and received fresh musical arrangements. Standout performances on The Past include a swinging big band update of the Victor Young "Street of Dreams," as well as a hauntingly beautiful rendition of the standard "More Then You Know." "But Not For Me" recalls the style of arrangement Sinatra performed with a vocal group in the early 1940s while working for Tommy Dorsey, while "I Had The Craziest Dream" recalls his days with the Harry James Orchestra, the arrangement peppered with beautiful trumpet solos by Sinatra sideman Charles Turner. Further work on this section was completed that September.
In August, work began on the second part of the album (The Present: Some Very Good Years) with orchestra under the direction of another close Sinatra confidant, arranger Don Costa. Costa and Sinatra first worked together when Costa arranged and conducted Sinatra's first ballad album at Reprise, Sinatra and Strings, in 1962. He would arrange two other albums for Frank at the end of the 1960s (Cycles and A Man Alone), serve as orchestral conductor for two of Frank's television specials, as well as assist in arranging Sinatra's two post-comeback albums as well as a smattering of singles.
Sinatra was seemingly pleased with the way Costa arranged contemporary pop songs to suit his voice, and much of the same type of material is on display here in The Present: orchestral renditions of popular love ballads coupled with big band reworkings of current hits, including Billy Joel's "Just The Way You Are" and Neil Diamond's "Song Sung Blue," as well a bit of nostalgia wax with Frank's interpretation of a ballad made famous years earlier by Elvis Presley, "Love Me Tender." "You and Me (We Wanted It All)," by Peter Allen and Carol Bayer Sager, as well as "Summer Me, Winter Me," a composition by Michel Legrand and Alan and Marilyn Bergman, are two standout readings that owe to the quality of Don Costa's arranging for strings as well as Sinatra's mastery at phrasing and emotion in the lyrics.
However, the overall gem resulting from The Present was, hands down, the "Theme From New York, New York." Lifted from the soundtrack of the 1977 Martin Scorsese musical written by Fred Ebb and John Kander and already made famous by belter Liza Minelli, Sinatra delivers a thrilling stomp-down gusto-filled performance backed by an orchestra at full-tilt. It peaked at number thirty-two on the Billboard singles chart, not to mention twenty-one on the Cashbox chart.
He had been performing the tune in concert for over a year before laying down vocals in studio, and would continue to do so in concert in the years to come, becoming one of his signature – and most requested – songs.
Regarded as a veritable anthem to one of the greatest cities in the world, with the exception of "My Way," today it continues to be the singular song most associated with Frank Sinatra.
The name Nelson Riddle would surface as production on Trilogy furthered. Riddle, responsible for most of the inventive arrangements that spearheaded Sinatra's musical reclaim to fame in the 1950s, would have seemed to have been the logical choice as one of the arrangers for this project, but due to a falling out that occurred between he and Sinatra in between their last work together and the recording of Trilogy, Riddle opted not to take the job. Nevertheless, an arrangement he wrote for Sinatra is featured on the second part of the album, the George Harrison love song "Something." Sinatra delivered a poignant rendition, recorded in early December. This was his second recording of the Beatles hit, first done as a single in 1970.
The third and final part of the album began recording in mid-December, under the direction of arranger Gordon Jenkins. Jenkins was another notable arranger in the Sinatra canon, having arranged two intricate collections of "suicide songs" for Sinatra at Capitol in the 1950s on two landmark albums (Where Are You? and No One Cares) as well as his September of My Years album recorded in commemoration of his fiftieth birthday in 1965 at Reprise.
However, this part of the album would differ from their earlier work in that Jenkins was not arranging songs written by other writers, but composing and conducting an original six-part musical suite (The Future: Reflections on the Future in Three Tenses). Recorded with a philharmonic orchestra and chorus at the Shrine Auditorium in Los Angeles, Jenkins weaves together a somewhat jarring representation of Sinatra's legend. A loose narration takes the Chairman on a wondrous trip through outer space (What Time Does The Next Miracle Leave?), singing a series of original songs as he looks over his life (I've Been There) and contemplates his future (Before The Music Ends) and the future of, seemingly, the world itself (World War None!).
Jenkins had earlier built a firm reputation as the composer of a notable musical suite. His 1940s composition "Manhattan Tower" (a masterpiece any music lover should investigate) was considered a benchmark in pop music, blending together music, singing, and spoken narrative in one conceptual recording. He tries to do the same here in his Future composition for Sinatra. How well this fits into the Sinatra universe depends on whose opinion you're asking. While "New York, New York" on The Present represents Sinatra at his best and most familiar forte, the whole of The Future, at least to this author, finds him at his most bizarre. The entire piece, however, WILL interest the listener, and should be investigated and judged by the individual.
With three sets of music in the bag, a press junket was announced and featured Sinatra posing with his three arrangers. From this junket, a massive campaign was soon underway. A new Sinatra album was coming, and soon enough, promotional posters and advertisements flooded record stores. Sinatra also built excitement for the forthcoming album by making mention of it at his concerts in the final months of 1979, previewing several arrangements from all three parts of the album for concertgoers, including isolated parts of The Future.
When it was finally released in March of 1980, Sinatra once again proved he could take the music making world by storm, even at the age of 64. Packaged in a beautiful gatefold cover with memorable cover art by Saul Bass, Trilogy made it all the way to number seventeen on the Billboard charts. At the Grammy awards the following year, it was nominated for Album of the Year, and his version of "New York, New York was nominated for both Best Male Pop Vocal Performance and Song of the Year.
Critics, surprisingly, took much of the same stance. There was much praise for The Past, considered someone of Frank's best singing in years, a divided response for the material chosen for The Present, with much accolades going to "New York, New York," and total confusion and wonderment for The Future. It was derided as an inferior work by many. Jonathan Schwartz, then top disc jockey for radio station WNEW in New York (main source of standards music broadcast in the area), usually a strong Sinatra supporter, went on record lambasting the third part of the album, which resulted in his suspension after Sinatra himself called to complain.
Luckily, it was not the last time Jenkins and Sinatra would work together. One year later, they reunited in New York for a return to form of their glory days in the 1950s, to record another album of torch songs entitled She Shot Me Down. It was lauded as a new masterpiece. Many individuals today feel that She Shot Me Down is what the third disc of Trilogy should have been, but at the very least, this new album resulted, and the Sinatra-Jenkins partnership was allowed to go out on a high note. Jenkins passed away in 1984.
Billy May continued to arrange and conduct albums for various artists for several years after Trilogy, even having the distinction of arranging and conducting Sinatra's last official Reprise recording session, "My Foolish Heart," in 1988. He died in 2004.
Don Costa continued in his role as one of Sinatra's go-to people until reoccurring heart problems would eventually bring him to the sidelines. He died in 1983.
Sonny Burke, the master planner behind Trilogy, lived long enough to see his dream project become a reality. A little more than a year after he first brought the project to Sinatra's attention, cancer claimed him in May 1980.
In the years since the album's release, additional material recorded during the original sessions but left off the finished product have been released on various compilations. "Surrey With The Fringe On Top," arranged by Billy May, has Frank swinging his way through a bouncy version of one of the main show tunes from the musical "Oklahoma!" while "Isn't She Lovely," arranged by Don Costa, features Frank taking a stab at the popular tune written by Stevie Wonder in an arrangement style reminiscent of Count Basie.
While both songs were left off the finished album, they would resurface on other releases years later. "Isn't She Lovely" was first released as part of the release of Sinatra's "Complete Reprise Recordings" boxset in the 1990s, while "Surrey With The Fringe On Top," which only exists in a rehearsal form, was released as the final track of the "Ultimate Sinatra" compilation in 2015. One wonders why Frank chose to leave these songs behind, but it is doubtful anyone would try to argue for their inclusion with the Chairman once he put his foot down.
Trilogy, with all of its merits and shortcomings, is still what producer Sonny Burke intended it to be: a lavish musical package, and a plus to think that some of Sinatra's finest recorded moments are contained within. I think it goes without saying, this album is recommended listening.
Until next time, Sinatra lovers!
Jerry Pearce is an amateur singer in the vein of Frank Sinatra, Perry Como, and Dick Haymes and has released two discs of standards music, Crossroads in 2010, and One Summer Night in 2016. Samples of his music can be heard on his YouTube Channel. To purchase his CDs use the form box below.
Comments or questions are welcome.