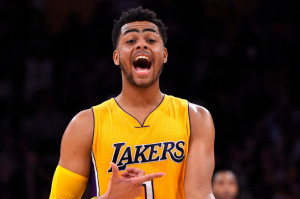 The Los Angeles Lakers have the second worst record in the NBA this season and have been underdogs all season when it comes to online NBA sports betting odds. Things have been so bad for the Lakers this year that the Kobe Bryant retirement tour has been the only positive thing the club has going for it.
Just when you thought things couldn't get worse for the Lakers, reports surfaced about rookie point guard D'Angelo Russell secretly recording teammate Nick Young when he was talking about cheating on his fiancé, Iggy Azalea, with a 19 year old woman.
While most people are disgusted that Young was discussing cheating on his fiancé, more people are upset with Russell because he violated an unwritten rule by airing his teammate's dirty laundry in what was supposed to be a private conversation.
The reaction in the Lakers locker room is what you might expect. According to reports, Russell's teammates are upset that he violated the trust of his teammate by leaking the tape to a gossip website. While there is no proof that Russell leaked the video, he was the person that recorded it and the fact that it was made public is his responsibility.
Lakers head coach Byron Scott refused to go into detail about the incident. Scott told reporters that the matter was an internal issue and he would let the players sort it out. However, team spokesman John Black said Young and Russell would address the media before their game against the Miami Heat on Wednesday.
According to an ESPN report, the video has driven a wedge between the rest of the locker room and the rookie point guard. Sources said that things were so bad in the locker room right now that other players have decided to isolate Russell. The source also said that Russell tried to eat lunch with Lou Williams a couple of days ago, but Williams walked away from the table as soon as Russell sat down.
With the locker room clearly divided, some are wondering if the Lakers will cut ties with their young point guard or let the situation play itself out.
Now that the video has been leaked, it is unclear if Young and Azalea will continue with their wedding or go their separate ways. She did post a note on her Twitter account saying she enjoyed watching the tape and thanked Russell for making it.
Young was in the news recently when a woman accused him and Jordan Clarkson of sexually harassing her and her mother when they were stopped at a traffic light. Young called the incident a miscommunication, but he will definitely have a harder time trying to talk his way out of this one.
Throughout the season, Scott has publicly criticized Russell for being immature, and benched him earlier in the season when he was struggling to adjust to the speed of the NBA. When he returned to the starting lineup, Russell played much better but still has a long way to go in terms of reaching his potential.
Russell is averaging 13.1 points, 3.4 assists, and 3.4 rebounds this season, but he has shown how good he can be when he is on and had a 39 point game against the Brooklyn Nets earlier this month.
With how badly the team has played this season and the drama that seems to follow the team around, Kobe Bryant is probably glad he decided to retire after this season.