Loading ...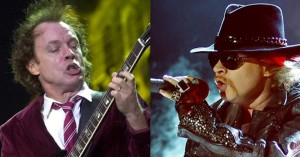 By Kristi O'Toole
Dead. I have died. Or at least I can die happy if this is the case.
While neither Axl nor AC/DC have confirmed working together, there's a number of sources boldly declaring Rose the frontman. Earlier this year it was announced by AC/DC that they would be postponing their US tour as singer Brian Johnson was reportedly at 'risk of going completely deaf'. (The first sign you're rocking it right). Almost immediately the reports started flying that the band would continue with a new frontman, but no one was named.
Then, just days ago, a DJ from Atlanta Radio, Jason Bailey, revealed that sources told him Rose was looking to replace Johnson on the Rock or Bust tour. "It's all but a done deal that Axl will front AC/DC for the remaining ten shows."
All I can say about that is, don't screw with me Bailey, you're playing a dangerous game.
When Kristi isn't writing for NewzBreaker, she writes supernatural suspense novels having three currently published. If you would like to check out any of her books they can be found online and at other major retailers like Books a Million and Amazon. Never one to rest, she also paints/designs shoes and items for the home. Check out her eBay store, Watered Down Vodka and her FB page.
Comments or questions are welcome.