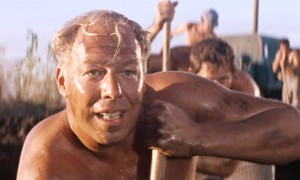 By "Bad" Brad Berkwitt
Sad news to report today.  George Kennedy who won an Best Supporting Actor Oscar for his role as Dragline, in the 1967 movie Cool Hand Luke, has died at the age of 91 from a heart related condition.  There are so many great roles he played over the years and he was beloved by the movie industry and fans alike.
In 2011, I had the honor of interviewing him over a two day period for NewzBreaker and found him to be a gentleman, with a great sense of humor, and one hell of a story teller.
I will miss you George very much, but thanks for leaving such a fantastic body of work to watch for many years.
NewzBreaker extends our deepest condolences to the Kennedy Family in their time of grief….
Here is our interview.