By Kristi O'Toole
In this third and final installment of inexplicable disappearances I feel I've saved one of the best for last. When one person mysteriously vanishes we're quick to lay blame on kidnapping or some fashion of foul play or simply walking away to start a new life, but when a group disappear, well that just isn't so simple. Add an isolated Scottish isle and three lighthouse workers and that just makes one hunky dory mystery.
The Flannans Isle Disappearances:
Something about three men, isolated at the edge of the world, surrounded by the hostile Atlantic Ocean mysteriously disappearing really peaks my curiosity. In December 1900 three lighthouse keepers, Thomas Marshall, James Ducat and Donald McArthur, on the lonely outcrop of the Flannan Isles in western Scotland, disappeared without trace.
With no answer to their disappearances for over a 100 years now, this case has been of endless fascination to those of us who love unsolved mysteries. The enigma that are the Flannan Isles has inspired stories, poems, songs, even an opera. Endless speculations about the fate of the lighthouse workers have been imaginative in the extreme.
Apart from the 70 years when the lighthouse was manned, the windswept islands have always largely been uninhabited. The only other structure on the islands, apart from the lighthouse, is a tiny ruined chapel, dedicated to St Flannan, the isles namesake. The islands were always viewed with great superstition by elder locals, and although farmers used the islands to graze sheep, they believed it was unlucky to spend a night there. They observed such practices as removing your hat and upper clothing, and turning in a sunwise direction, when arriving there.
The mystery begins on the night of 15 December 1900, when a squall broke out in the vicinity of the islands. The crew of a passing ship, the Fairwind, were angry and disturbed that no guiding light from the newly built Flannan Isles lighthouse appeared to be in operation. Though reported by another vessel as well, nothing was done about it. Perhaps the authorities felt that it was best to wait a few days, as the relief ship, the Hesperus, was due to sail out to the islands on the 20th December.
Bad weather delayed the sailing though, and the Hesperus didn't set out until dawn on December 26th, carrying fresh supplies for the lighthouse and Joseph Moore, who was due to relieve one of the other keepers on duty. Moore was anxious about the mystery of the dead light; he knew that it was virtually unheard of for lighthouse keepers to allow a light to go out like that. It was said that during the short voyage to the islands he was restless, filled with foreboding, pacing the deck and refusing any breakfast.
From the moment the crew arrived things felt eerie. There was no welcoming committee from the three men, who would normally have been outside to greet them, no provisions boxes had been put out to be restocked, and the flag wasn't up on the flagstaff. The isle lay in undisturbed silence. Moore swiftly made his way to the lighthouse in hopes of finding the men perfectly safe and sound with a logical explanation.
Inside the lighthouse nothing looked out of order. The lamps were trimmed, the beds were tumbled as if they men had just got up, the dishes done, cold ashes in the grate. Other reports have it that a chair was overturned in the kitchen, although some observers believe this was done later for journalistic embellishment), and the clocks had all stopped. What is agreed is that two sets of outdoor gear were missing, and only one set of oilskins remained. Which meant one of the men had gone out without his protective weather gear on; something that would have been virtually unheard of. Not only was this wholly impractical, but for all three men to leave the light unattended at once went against the rules laid down by the Northern Lighthouse Board. The only set of outdoor clothing which remained belonged to Donald McArthur.
A comprehensive search of the island turned up nothing on the three men. At the west landing there was extraordinary damage. Iron railings were bent out of shape, and the iron railway by the path was completely wrenched out of the concrete. The conclusion was that the damage had been caused during a terrible storm.
Captain Garvie sent a telegram to the Northern Lighthouse Board, saying that "a dreadful accident" had happened at Flannan. He concluded the "poor fellows must have blown over the cliffs or drowned trying to rescue a crane or something like that".
However entries in the log book told another tale. "December 12. Gale north by northwest. Sea lashed to fury. Never seen such a storm. Waves very high. Tearing at lighthouse. Everything shipshape. James Ducat irritable".
Later that day: "Storm still raging, wind steady. Stormbound. Cannot go out. Ship passing sounding foghorn. Could see lights of cabins. Ducat quiet. Donald McArthur crying".
"December 13. Storm continued through night. Wind shifted west by north. Ducat quiet. McArthur praying". Later: "Noon, grey daylight. Me, Ducat and McArthur prayed".
On 14 December there was no entry in the log.
The final entry was made on a slate, which (under normal circumstances) would have been transferred to the logbook proper later on:
"December 15. 1pm. Storm ended, sea calm. God is over all".
The night of the 15th is when the light fell dark, clearly the men had survived the storm but then disappeared in the hours after the storm and before dark, which would have been apx. 4 pm at that time. Now another strange topic for discussion are the actual entries into the log book. The logs were designed for professional documentation only, not as personal diaries, so the fact one entry had Ducat as 'irritable' and McArthur 'crying' is extraordinary, the Northern Lighthouse Board would have asked Marshall to explain why he had made such a personal entry.
Armchair detective time. I have two theories about this mystery. First it was a tragic accident, two of the men were out during the storm securing items when they got into trouble, and McArthur hastily ran out to assist leaving his coat behind. But then what of the log entries? Perhaps the entries were more embellishments made by journalists and never really happened, that would explain the personal touch on the entries, an amatuer wouldn't know any better.
Second, what if the men were taken hostage by a crazed islander bent on destroying mankind? What if he held the men and tortured them before feeding them to the sea? The log entries were a little mocking with one man irritable, one crying like a little baby and then all of them praying. Praying for what? Survival? Those that knew the men all agreed they had never been ones for prayer. Were they begging for their lives maybe?
Other theories were sea serpents, ghost pirates, suicide, but unfortunately we'll never know the truth. Official reports had the men alive as late as December the 7th, I guess we'll have to leave it there and hope that no matter what their fate may have been that they are now resting in peace.
Now lastly, but certainly not least…
The disappearance of Kyron Horman:
The choice for my last story was a difficult one for me. There are two missing children that have touched me so deeply, that choosing just one wasn't easy for me. Madeleine McCann, the three year old girl who disappeared in Portugal while her family was on holiday, and Kyron Horman. Ultimately I have chosen to write of Kyron because my personal feelings on the McCann case and the involvement of her parents would interfere with writing a fair and balanced story.
On June 4, 2010, Kyron was brought to school by his stepmother, Terri Horman, who then stayed with him while he attended a science fair. Terri Horman stated that she left the school at around 8:45 a.m. and remembered seeing Kyron walking down the hall to his first class. However, he was never seen in his first math class; instead, he was marked absent for the day and has not been seen since.
Kyron's stepmother was able to give police a minute by minute account of her day; everything from driving her toddler around to help soothe an earache, to shopping and the gym. Now while I feel all of this is very plausible, she literally gave them a 'minute by minute'. In example, Horman says between 10:10 and 11:39 she was driving her daughter around. As a mother of multiple children, one of which is a toddler and one close to Kyron's age, I can tell you that myself personally could not tell you what I was doing to the minute.
My daily account would more resemble, "I don't know officer, somewhere between 10:00 and 12:00." I cannot remember details to the minute, my brains are like scrambled eggs much like many other mothers of toddlers. Maybe Horman is a meticulous time keeper, or maybe she's covering her tail.
Once I read the report where she tried to hire their landscaper to kill her husband, I'm leaning towards the latter of the two. Authorities convinced Horman's landscaper to wear a wire in an attempt to obtain hard evidence, but the mission was fruitless. I'd say it would be considering Horman was already under suspicion over the disappearance of Kyron, certainly she wouldn't have been so stupid as to implicate herself in a murder for hire.
While there was no definitive evidence linking Kyron's stepmother to his disappearance, the boy's father filed for divorce and a restraining order against his wife just weeks after his son's disappearance, and on June 1, 2012, Kyron's birth mother, Desiree Young filed a lawsuit against Terri Horman claiming that she is "responsible for the disappearance of Kyron." The civil lawsuit would attempt to prove that Horman had kidnapped Kyron. Young was seeking $10,000,000 in damages from Horman. On August 15, 2012, a federal court judge denied the motion by Terri Horman to delay the lawsuit. However on July 30, 2013, it was announced that Desiree Young had dropped the lawsuit against Terri Horman.
Young stated she didn't want to jeopardize the police investigation. "Because my civil case can't go forward without the police criminal investigation file, it's with great disappointment I make this difficult decision," Desiree Young told reporters. Young was tearful as she spoke at the press conference outside the Multnomah County Courthouse in downtown Portland. She said in order for her lawyers to move forward with the suit, they need the police file which they can't have during an active police investigation.
Unfortunately statistics would tell us that after six years Kyron will not be found. While the circumstances surrounding the case (most of which I did not list here) point the finger to Terri Horman, she has never been charged and now lives in southern California. If by chance Horman is innocent, then what happened to Kyron? In the short walk from the science fair to his class, where could he have gone? Sadly it seems he'll go down in history as yet another mysterious and inexplicable disappearance.
I highly recommend checking out the book, 'Missing 411' by David Paulides. It's an investigative book on the subject of mysterious disappearances in national parks, and also in urban areas. Paulides has drawn significant national attention and has been featured on numerous radio shows as well as television interviews and prime time newscasts. Just don't read it if you're home alone, you may never leave your house again.
Next time I'm going to dive into Loch Ness and see what we can't find out about everybody's favorite sea serpent, Nessie.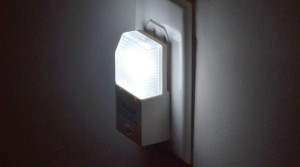 Until then, leave the night light burning.
When Kristi isn't writing for NewzBreaker, she writes supernatural suspense novels having three currently published. If you would like to check out any of her books they can be found online and at other major retailers like Books a Million and Amazon. Never one to rest, she also paints/designs shoes and items for the home. Check out her eBay store, Watered Down Vodka and her FB page.
Comments or questions are welcome.