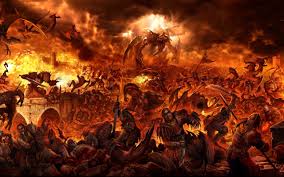 By Tatiauna Miller
We all do those little things that we know are wrong. You know what I'm talking about, when you laugh at something you shouldn't be laughing at or just being plain old wrong. We all do it and of course we always say to ourselves "I'm going to hell for this" right before for we do it. For me, I have a few regular "I'm going to hell" situations.
I'm always laughing at people falling. I try to be mature about it, but I can't help laughing. Watching people trip and fall is a tear jerker, I have to literally grab a tissue cause I'm ugly crying.
I know what some of you "L-7 wienies" would say about me laughing, "You wouldn't want someone laughing at you when you fall!" Nope, that's why I never fall. I stay working on my balance just for that type of situation, I'm never going down!
Scaring kids and laughing about it. I wonder if my daughter is going to have anxiety, because I always scare her. I will hide behind stuff, wear a monster mask, or creep up behind her, showing her fake bugs and snakes. She was so easy and funny to scare when she was younger, now she's a seasoned vet and is learning to anticipate the scare. Since I can't scare her anymore, I spend my time watching videos of people scaring their own kids. So much fun.
Hanging up the phone on people and pretending the call dropped. This is me quite often. I will just hang up on someone and then when they call me back say "What happened?" "Did you hang up on me?" Why am I lying? I know that was all me! The devil is saving me a space right now, next to him. Ask me why I do it? It could be for various reasons, sometimes I just don't feel like listening to what they're talking about.
Not picking up my Mom's call. Sorry, Mom! Sometimes I just don't want to chat with her. I know everyone is going to say, "One day you're going to miss those conversations with your mother", and you would be right. I will say the main reason why I don't answer the phone is my mom is always calling at the wrong time. Her timing is crazy, she'll call when you're holding 13 grocery bags because you want to carry it all in one trip.
She'll call when you're trying to do one important thing on your phone. She's called when you finally were getting sleepy. She's called in the middle of sex or when you're picking up the dog's poop. Calling at the climax of the movie and you pick up the phone and miss 10 important things in that one second. Damn, can't she call when I'm not doing anything? Now if I don't answer my mom call's my daughter's phone and I make them talk to each other. Problem solved.
I wake my dog up from naps. I know, now you all think I'm just too cruel. Not only do I laugh at babies, ignore my mom, but I rudely wake up the dog too! Yes, I do! My dog wakes me up all night for pets and staring contests, so my pay back is to wake him up after he's stayed up all night harassing me. You should see him in the morning, it's disgusting. While I'm getting ready for work he's so exhausted, snoring away and can barely wake up to go pee.
If his little ass would sleep when I slept, there wouldn't be no issues but nooooo he needs to stay up all night barking at nothing, scratching aka fluffing up his dog bed and just farting and grunting. Anyway, it gives me so much pleasure to just shake his ass awake. My plan is to keep him up all day so I can finally sleep at night.
Well rereading all this makes me sound low-key evil, anyway I know I'm not the only one so hell won't be so lonely.
Thanks for giving me your time! Have a beautiful day, laugh more and live more!
[si-contact-form form='3′]