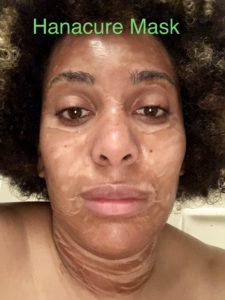 By Tatiauna Miller
I love skin and hair products. I'm that person that buys expensive soaps, lotions and hair lotions. I have to purge my cabinets at least once a year to make room for new things. I'm always on the hunt for the newest and best products and currently the hot items are a few products nicknamed the Zombie Face Mask has caught my attention. These masks are called the Zombie Face Mask because your face looks wrinkly and dead like a zombie. Fortunately for you and your wallets I've tried them both and you can check out my NewzBreaker review.
The first Zombie Face Mask I tried was called Hanacure face mask. This a South Korean beauty brand or K-Brand which is supposed to reduce aging, tighten your pores, brighten your face and turn your skin baby soft for a hefty price of $29.00 per mask. Now, I know this product may be expensive, but it comes highly praised for its natural ingredients by beauty bloggers and celebrities like Drew Barrymore, if you care about that sort of hype. You already know my weakness is new beauty products, so of course I order four of them!
I placed the order on the website and in 3 days I had my goods. They have a warehouse in Compton, just in case you're wondering how I got my South Korean products so soon. My face mask came straight out of Compton! I'm a stickler for presentation and the packaging on this product is 100%! It comes in a white box with an elegant, minimalist design. The product itself comes with a brush to apply the product to your face, a pod with the lotus extract gel and serum in a small glass vial. You pour the serum into the pod and shake to make the mask. Once applying the mask, the gel is cool and goes on smooth with a light pleasant fragrance.
The instructions say to apply to face and neck, but avoid the eyes and mouth. Once the product is on, your face feels cool for about 10 minutes and then you begin to feel the tightening of your skin. You will see the skin on your face starting to darken and it almost looks like the mask is pulling at the layer of dead skin on your face. To increase the intensity of the face mask, you can lightly fan your face during the process, if you want to torture yourself! The mask is supposed to be left on your face for 30 minutes and let me tell you the last 10 minutes are the most uncomfortable.
The itchy and tight feeling of the mask makes it almost impossible to speak or turn your head. At 30 minutes on the dot, I washed that bad boy off with soap and warm water. The instructions said warm water, but I could still feel the product on my face after 2 washes. The first thing I noticed afterwards was my face was red as hell! The instructions say that you will experience redness for 20 to 30 minutes after application. With that said, this is not the mask to put on right before an event, this is a night before type of situation. My face was red and a little thirsty afterwards, so I applied a light moisturizer and hit the bed.
The next day I woke up with smooth, baby soft skin a few breakout spots were not as prominent as before, but they weren't gone entirely as promised. About a week later I noticed my skin was still very soft and supple and my foundation looked and felt smooth going on. FYI if you're looking for any differences after a week I forgot to pay attention so you're on your own eith that one. Overall, I give this product a great review. It was easy to apply, smelled great and I liked the results.
I saw the knockoff or cheaper version of the Hanacure a day or so later after I placed my order. I may have been a little bitter, but I normally don't try the "knock off" products. Whatever, call me fancy if you want. The knockoff is called the Zombie Pack by Skin 1004 another South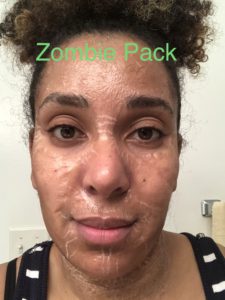 Korean beauty brand. The prices is $17.95 for 8 masks, it's an Amazon choice item and Amazon Prime members get free shipping. No fancy packaging for this one, but definitely more mask for your buck. The first thing I noticed about the box was it said the "With Egg powder". I'm not a fan of anything I can make at home and an egg wash mask is something I can do in my kitchen. In the box, you get 8 pods containing a mixture of egg powder, corn and lavender oil. Also, in the box like the Hanacure is an applicator brush and 8 serum packets.
You add the serum to the powder and mix to create the foamy face mask. The first thing I noticed was the smell. It may be a pleasant smell for some, but it was a little strong and unpleasant for me. It actually smelled like a wet dog with perfume on, just in case you were wondering. The mask didn't go on as smooth, but it did dry faster than the other. The process time was 10 – 15 minutes for completion and washing again with warm water. Thank goodness for the quick dry time, less time to endure the itchy tight feeling! This mask has a similar look and feel to an egg wash, but I didn't feel like it removed the dead skin like the Hanacure did. The Zombie Mask was easier to wash off than the other and no redness at all. No redness means great treatment before that fancy date! I did have to put on a light moisturizer as well, but my skin felt very soft afterwards. This product is also recommended by me.
Both products accomplish the same thing just with different ingredients and of course different prices. If you can afford to splurge by all means treat yourself to the Hanacure, but if you're not into that Kardashian life and would rather spend your money somewhere else there's nothing wrong with purchasing the zombie pack or just doing an egg wash at home.
I hope you enjoyed my review I should do more, but my pockets don't need excuses to spend more money.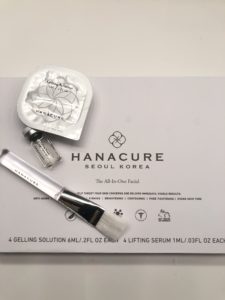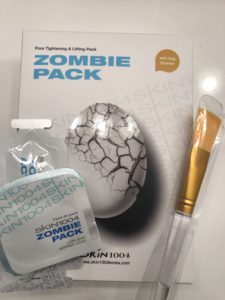 Hanacure Face Mask – $29.00 (1 mask) $110.00 (4 mask)
Zombie Pack – $17.95 (8 masks)
Thanks for giving me your time! Have a beautiful day, laugh more and live more!
[si-contact-form form='3′]