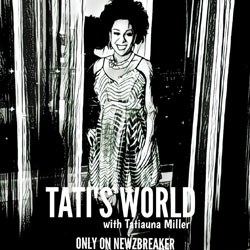 By Tatiauna Miller
Many of my friends know that I'm a serious music fan. I love music and I will judge your music choices and knowledge. Music continues to evolve and manifest into a new medium, with it being so crazy at time, I am compelled to seek out new music and new genres. Which doesn't mean that I can't enjoy some of the older stuff too. I just love them all, there are so many songs and musical eras that created musical duds and gems. My choice of listing my top three best and worst love songs was hard as hell because my favorites change so often, it's probably because I'm a Cancer!
Top three best love songs! Sheeeeeshhhh this was so hard, for me the making of a great love song is the melody and the voice. To keep me on track I broke it up into three categories, Oldie love song, "School Age Tati" love song and current love song. Best oldie love song; Voyage To Atlantis by The Isley Brothers. The musical composition is sexy and their voices are so smooth. This is one of those songs when you listen to it reminds you of your first love, that you've moved on from but will always remember them. I'm sure the real meaning will end up being about drugs or something because every good love song was actually written about drugs anyway. Best "school age Tati love song"; I'm Kissing You by Des'ree.
This song is a legit love song! When I first saw the movie Romeo and Juliet this song was in my head the entire movie. I bought the album just to play it over and over again and Des'ree sang her tail off on this one! This song makes me think of all the pain and sacrifices that come with love but also the desire and joy. They call my girl Des'ree a one hit wonder but she was really amazing on with this one. My favorite current love song is Frozen by Sabrina Claudio.
Sabrina Claudio is a relatively new artist, who hit the music scene in 2016 and now she's blowing up. This song is definitely a "new love" song, it feels so innocent and intimate and it makes you think about the honeymoon phases of a relationship. Also, this song is definitely about loving a person and not drugs.
Top Three Worst Love Songs. This wasn't as hard just because I have a few songs, I've always thought were not romantic. Not surprisingly I could not think of a bad oldie love song so I choose two "school age Tati" love songs. This first song is actually one of my favorites but it's just not a love song. The lyric sounds like a love song and so does the melody but it ain't no love song.
My first choice is More Than Words by Extreme. I know this is a great song but why do you have to be so confusing about your feelings? Not only do the long hair cuties confuse the audience but sound like all they want is to get some action. The first lines in the song is "Saying I love you, is not the words I want to hear from you". How do you respond to that? Because I'm obstinate, my response would be to say "OK, I won't say shit to you anymore!" Now the big fore headed guy singing has you all confused and you don't know what they want you to say because "If you only knew".
The next few versus go like this "How easy it would be to show me how you feel, More than words is all you have to do to make it real" Oh really? Now I get it, this is one of those in the backseat of the car songs when the guy is trying to convince the girl to give him some. The more I keep thinking about it the worse it gets, checkout some of the other versus "All you have to do is close your eyes and just reach out your hands and touch me." Girl, don't do it! Peer pressure at its finest! My second choice is Where I Wanna Be by Donell Jones. This song is nicely composed and Donell can sing but DAMN this is the worse! I know everyone knows it's not a love song but I know this is on someone's bedroom playlist. This song is about a dude that likes to cheat because "he has a lot of lust inside of him"! What that hell is he talking about? He has a lot of excuses about why he can't stop wasting his girl's time and be faithful.
This is a sad dude's song to other sad dude's that got kicked out by their wife because they were cheating and now they're living on their friend David's couch. Current worse love songs probably anything by Ed Sheeran, I'm just tired of him on the radio! He has a million songs playing right now and each and everyone one of them will be played at someone's wedding. I know I missed a ton of best and worst songs but this column can't go on forever.
Thanks for giving me your time! Have a beautiful day, laugh more and live more!
[si-contact-form form='3′]