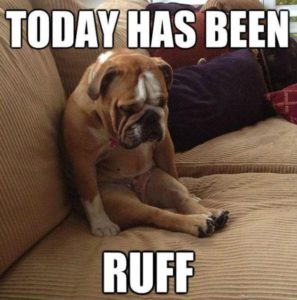 By Tatiauna Miller
I know each and every one of us hopes and prays to have a good day. We all wake up shiny and new ready to take on the day, until unfortunately the "Bad Day" strikes. Well, this was me yesterday. I woke up feeling well rested and optimistic, until the bullshit started to happen. That morning I opened my eyes and was out the bed and ready to roll, I laid out my clothes with relative ease which hardly ever happens. I quickly put on my clothes and I go to wake up my daughter. Usually my daughter is "THE WORST" to wake up, every morning it's like waking up Rip Van Winkle. She's so damn slow and she groans and moans like she's 100 years old. But yesterday this child happily pops up from the covers like a "Jack in the Box". She was just smiling and when your kids smile, so do you! She's getting ready and everything is flowing so smoothly, until the day went left.
I'm almost finished brushing my hair and my hairbrush breaks in half! When I say in half, I mean it breaks straight down the length of the brush. Now, I'm scrambling around looking for a backup brush and the only one I find is this thin ass, anorexic looking brush. After I've pulled all my edges out with the anorexic brush, I put on my Fitbit and earrings. I got one earring in and my Fitbit just falls off my wrist. I look on the ground and see the wristband is broken. But hey a broken wristband never stopped anybody, so I go to my closet and reach up to get my sewing kit to fix my wristband and BAM! All I see is stars, fireworks and I feel PAIN! Something hit me in my damn head and it hurts like hell, I had to shake it off like Taylor Swift.
I look around to see what hit me and I see my bag of shoe polish and brushes. I got hit in the head with 2 huge shoe polish cans and two heavy polish brushes. My mood soured, it went from good too bad in that one instance.
My head is aching, and the right side feels like it's grown two more inches. I go to check on London and she just started eating her breakfast. At that point, I just start yelling, because my head hurts and now we are going to be late to school and work. So, she chokes down her fruit and starts running like a little chicken.
We make it to school and the drop off went smoothly, thank goodness. On the way to my favorite place the "slug-lot" the traffic is horrendous! I mean I had a rough enough morning, already and now I got to sit in some stupid traffic! I finally get to the entrance of the slug-lot and there's a huge accident with police, fire trucks and ambulance blocking the entrance! As soon as I saw that my damn head start aching even more! After more waiting, I make it in the lot and I line up for a ride. Again the "Bad Day" is still trying to drag me down because who is trying to pick me up? The dirty ass car dude! "Really though come on, God can you give a sista a break?" I passed up on the nasty wheels and I got it in another car and made it to work in time.
I get to the office and what is the first thing that happens to me, I get dragged into a meeting! I don't even know what the meeting is about but apparently, I needed to be there. After that random meeting, I stop by my desk to get my coffee cup and my phone starts to ring. Now I'm stuck on the phone with no coffee! That one phone call turns into 3 and the last call lasts till 2:30! That means I missed breakfast, coffee and damn lunch! Not to mention my head is hurting from hunger pains and I have a goose egg on my forehead. Imagine spending almost 2 ½ hours on the phone telling someone how to do their damn job over and over again!
That was so stressful, I wanted to hang up on this person at least 10 times, but I couldn't be rude and keep my job. After hanging up that painful conversation, turned into a painful email reiterating what I spent 2 ½ hours explaining. To sum it up my day was exhausting and I don't even know if I got to do any of my actual work.
After all that my head is bumping from a stress headache and the lump on my forehead is turning it to a fivehead, I thankfully make it home with no issues. I walk in the door and the first thing my daughter says is "Mommy, I love you, the refrigerator is broke!" "Wait, what? The refrigerator is broke?!" How come kids always want to be the first to deliver the bad news? I wanted to hug her but push her out the way at the same time! Little girl you're cute, but so annoying! I give her a half hug and then the Heisman and race to the fridge to check my food and assess the situation. The fridge was broke, but the food was fine and I finally got a break!
After the rough day, I drank my semi cool water, collapsed in my bed and I was thankful. The "Bad Day" could've been worse but it wasn't. I'm alive, I have a home, my family is safe and life is good.
Thanks for giving me your time! Have a beautiful day, laugh more and live more!
Comments or questions are welcome.