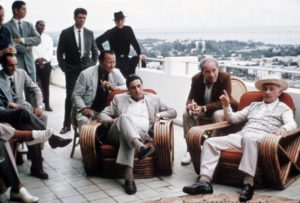 By Larry Henry
Are you up for a little mob tourism in 2018?
If so, then a couple of outstanding books and at least one helpful app are available to guide you to the right places.
Here are a few:
"The Weegee Guide to New York." This book, containing nearly 300 black-and-white pictures, is not only a compilation of the renowned press photographer's work, but it also includes fold-out maps showing the precise spots in New York City where Weegee stood when taking his now-iconic photos.
Weegee, whose real name was Usher Fellig, lived in a studio apartment across from the Manhattan Police Headquarters, but his true home was the streets, especially at night during the graveyard shift among lawbreakers and outcasts. He seemed to show up at every building fire, car crash and sidewalk shooting in the city, beginning in the 1930s and continuing into the years beyond World War II. (The name Weegee was a phonetic spelling of Ouija board, signifying that Fellig seemed to know about news events before competitors found out.)
Though his work covered a lot more than mobsters, he photographed so many jailed gangsters that his colleagues referred to him as "the official photographer for Murder, Inc."
This book, with stark tabloid photographs and accompanying maps, will take you to some of New York City's darkest corners.
"Gangland New York" by Anthony M. DeStefano. A respected New York journalist, DeStefano has written several acclaimed mob-related books. You can check them out on his website here.
His "Gangland New York" book, subtitled "The Places and Faces of Mob History," includes not only detailed maps with addresses but also well-written narratives that explain the background associated with each site.
In addition, the book is loaded with historical and contemporary photographs, which are of interest in themselves, but also can help in identifying exact locations, including buildings that have gone through renovations.
For instance, in Chapter 13, titled "Gotti's Gamble," DeStefano includes an older photograph of the Ravenite Social Club at 247 Mulberry St., where Gambino crime boss John Gotti once held court, and a newer one showing the exterior of the club after it had become a trendy Manhattan shoe store.
"Kansas City Mob Tour App" by Gary Jenkins. No mob writer that I know of has done a better job than Gary Jenkins of Gangland Wire in combining multiple platforms — website, podcast, a print and ebook, a documentary film with surveillance audio and exclusive video — to explain his city's significant role in U.S. mob history.
A former Kansas City cop and now an attorney, Jenkins, in addition to all the other platforms, also has created a smartphone app, "Kansas City Mob Tour," to guide users through Kansas City's rough-and-tumble history of underworld car bombings, gangster shootouts and federal wiretaps. It was in Kansas City, at a now-demolished pizzeria, that authorities learned about the Las Vegas skim while eavesdropping on members of the Civella crime family at a bugged back table.
A couple of months ago, I used Jenkins' app, which is available for only $1.99, to visit numerous mob sites in K.C., including the residence where mob boss Nick Civella once lived. You can view an iPhone video I shot of the Civella house by clicking here.
Happy travels!
Larry Henry's YouTube channel includes videos he shot of mob sites in Las Vegas, the apartment building in Santa Monica, California, where Whitey Bulger was arrested, and the remote Arkansas airport where Barry Seal transported drugs into the U.S for the Medellin Cartel. Subscribe HERE.
Attachments area