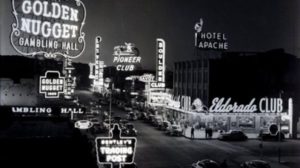 By Larry Henry
The first MobWorld Summit is set for this summer in Las Vegas.
The dates are June 15-17, with plans for a cocktail gathering on Friday night, June 15, then tours of mob sites and The Mob Museum on Saturday, capped off by a dinner that night with speakers and book signings. On Sunday morning, Father's Day, we'll gather for breakfast and hear from additional speakers.
I'm working on a formal schedule, with hotels and restaurants for our events, that I'll post in a future Newzbreaker column and on the Las Vegas Mafia History Facebook page. I'm also working on a MobWorld website that will go live soon with all that information and more.
Interest in the MobWorld Summit began to build earlier in December on Facebook when Michael Andolini, George Custer and I began tossing the idea around on the Las Vegas Mafia History page. Many others joined in with a lot of great ideas and a much-appreciated willingness to help. What started out as a fun suggestion that a few friends gather at a tavern in Los Angeles or Las Vegas to swap mob stories has grown into a full-fledged Summit.
The Las Vegas Mafia History Facebook page and many others are an example of the way that people with a shared interest in the mob connect on a day-to-day basis and share information.
Interest in the mob has soared in recent years, with numerous Facebook groups, websites and authors releasing new material every day.
My interest began years ago when I lived in Nevada, working as a reporter and editor at newspapers in Reno and Las Vegas and also serving as press secretary for a Nevada governor.
The governor's father had been an illegal bookie in Chicago and ran a burlesque show before moving to Las Vegas and partnering in casino ownership with figures tied to organized crime. To read more about him, click here.
Being in those circles sparked my interest in the Mafia. Now that the passing years have given me a broader perspective on those experiences, my interest has grown even greater.
That's why I'm excited about the Summit this summer. I'm looking forward to being with friends from our online mob groups — and also meeting with a lot of new friends.
Our plan is to hold an annual Summit, rotating it to cities rich in mob history, including Los Angeles, Kansas City, Chicago, Milwaukee, New York, New Orleans and Tampa. Ultimately it would be fun to hold Summits in places such as Havana and London.
Wherever we end up, the Summit promises to be a great adventure.
First stop: Las Vegas.
Larry Henry's YouTube channel includes videos he shot of mob sites in Las Vegas, the apartment building in Santa Monica, California, where Whitey Bulger was arrested, and the remote Arkansas airport where Barry Seal transported drugs into the U.S for the Medellin Cartel. Subscribe HERE.