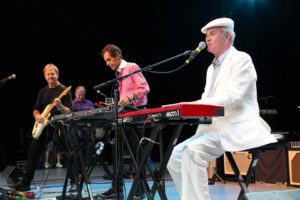 Exclusive Interview by "Bad" Brad Berkwitt
"After that, other stations began adding it (Moonlight Feels Right), and it ended up on virtually every non-country radio station in the world selling 3M+ in the U.S. and 1.5M foreign."—Bruce Blackman
The wind blew some luck in my direction (first line from the smash hit song Moonlight Feels Right written by singer/songwriter Bruce Blackman) and it sure did with me landing this exclusive interview with him for NewzBreaker. As an 8-year-old living on Miami Beach, AM radio being king, and a transistor radio a necessity, a song called "Moonlight Feels Right "hit the airwaves like a bullet. It played repeatedly in disc jockey rotations that summer, and to this day the song is still popular. Not only did it have catchy lyrics but it also had a solo by the late Bo Wagner. Wagner on marimba absolutely knocks your socks off.
In our interview, Bruce runs the rails and shows a great wit which if you read his posts on his FB page, you will see is a regular thing.
Ladies and Gentlemen, MR Bruce Blackman…
BB: Moonlight Feels Right was a top three hit for Starbuck on the Billboard Charts. I read you had so many broken promises by DJ's to play it on the radio, you could fill up an old milk bottle. When it hit, one, were you surprised? Secondly, when it was in the can, how did you feel about the song?
Yes, I was surprised when the song exploded. It was a long slog. I wrote the song in '74 two years before it hit. Peggy, my wife, kept saying, "Bruce, the world has to hear this." I thought it was a "trick song" because it didn't sound like anything on the radio at the time (mostly disco and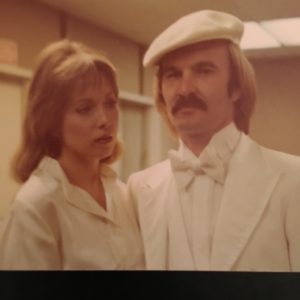 Southern rock), but I finally got it to a publisher here in Atlanta, and he offered a contract. We recorded MFR in Jan.1975. The record company released it in Sept, 1975, but nothing happened. In November, Bo Wagner (the marimba player) and I went on a six-week promo trip visiting about 400 stations in the southeast, and again, nothing happened.
In the spring of '76 a DJ at WERC in Birmingham decided to give it a few test plays, and his request lines exploded with calls. He called our record company, and they shipped in 45s and it sold 25K copies the first week. After that, other stations began adding it, and it ended up on virtually every non-country radio station in the world selling 3M+ in the U.S. and 1.5M foreign.
BB: In researching you for our interview on NewzBreaker, I see you and my dearest friend Rodney Wellington share something in common. You both grew up in Greenville, MS and graduated from Greenville HS. What was it like growing up there and how did it influence you into a musical career?
Greenville (pop. 40K) was quite different than other towns in the State. A disproportionate number of famous artists, writers and musicians came from there. It was a kind of literary hub. I spent hours at a friends' house listening to people like William Faulkner, Hodding Carter, Shelby Foote, and many others. These guys were brilliant, but what I liked most was how tough they were. We had a lot of loudmouth redneck "hoods" in our school, and my friend and I developed a kind of creed for dealing with them—"If you mess with me, I'll whip your ass. Then I'll write a poem about whipping your ass, and our English teacher will read it aloud in class, and I'll make an A."
I had more mentors than I can mention. Musically, I grew up playing Delta blues, but moved on from there into more (can I say sophisticated) styles?). But there's always a touch of blues licks in most of my songs.
BB: Rodney told me to ask you about Doe's Eat Place and Shipley Do-Nuts in Greenville.
Doe's Eat Place is a steak joint in Greenville located in the lowest of the low-rent areas of the town. It looks like a shack, and they have a swat team out front to keep you alive. But the food is fantastic, and it's world famous. Shipley's makes yeast do-nuts from scratch, and I've never had one even remotely close to theirs.
(Writer's Note) Rodney sent me as gift a dozen doughnuts from Shipley's recently and as Bruce and Rodney said, "nobody remotely comes close to them!"
BB: Who were a few musical influences on you as a young man?
Dave Brubeck (as a player), Burt Bacharach (as a writer), Henry Mancini (as an arranger).
BB: Do you recall the first time you got in front of a live audience? If so, how did it go?
Second grade. Archer Park. Greenville, MS. I entered a talent contest and sang "Little Toot," a song about a tugboat. I came in second place (a distant second) to a girl who twirled a baton with chicken feathers on each end. I learned that tugboat songs can't compete with baton chicken feathers, and I should have known.
BB: I am not sure of your opinion on songwriting today or the music in general of many of the younger artists, but I am going to say that both for the most part, are absolutely lacking. Autotuned disgusts me and the lyrics of so many songs on the radio have me listening to old CD's or plugging in my thumb drive in the car to play music I have recorded. Why if you feel the way I do, has it come to this?
Technology. Anybody can record today with a $99 computer program. They even have software that will write it for you. The 10K hours of practice rule no longer applies, and many of these young artists are void of talent. A lot of the lyrics sound like little girls chanting as they jumped rope when I was a child. Top 40 Radio is geared to the 12-18 demographic, and it's almost impossible for older people to relate to it, thus the advent of streaming radio where you can choose what you want. And the oldies channels are by far the most popular. "Moonlight Feels Right" gets streamed over a million times a year. People often ask me how long it took to write MFR and I answer, "5 minutes to write and 15 years to learn how."
BB: Earlier this year, you lost your bandmate and friend, Bo Wagner, who was an amazing marimba player. I read a very heartfelt tribute by you on your FB page about Bo. How did you two meet? If you could sum him up in one sentence as a human being, for the many fans of his, from your firsthand knowledge, what would you say?
I was in a band, Eternity's Children, in the 60s and we had a mild hit with my song, "Mrs. Bluebird." We were signed with crooked managers, and I decided to leave the group. Bo Wagner joined the band a few weeks after I left. He joined because he liked the songs they recorded, and when he found out I wrote them, he quit and set about finding me. It took him several years. He was touring with Liberace when he found me, and invited me to Liberace's show in Atlanta. He talked me into putting a group together, and we did. This was the first version of Starbuck, and we went through three more versions of the band before MFR.
One sentence summation — The most competent, accomplished, and ambitious person I've ever known.
BB: What are your words of wisdom for the young songwriter, singer or someone wanting to put a band together for the first time and breaking into the music business?
Understand that music is a business, and when the art part ends, the hard part begins. You have to appeal to complete strangers. Your friends and family don't count. Master your instrument. Do not give in to the easy technology available to you. Today's technology allows anybody to do it, but when everybody can, it's the same as if nobody can. Talent will always win.
BB: Who do you put on when you are in a romantic mood?
Andrea Bocelli
BB: If you thought back to all of your live performances with Starbuck over the years, do you have one magical night where all the stars aligned and it was for you, the greatest night of your performing career?
There's no time like the first time. We opened for ELO in Birmingham and brought the house down. People clapped so hard it was like they were hurting their hands. When I was singing MFR, I saw my wife standing out at the mixing board with tears of joy streaming down her face.
BB: Starbuck did so many shows in the 70's on TV. Was there any funny story about a performance on any of the shows you can share with the NewzBreaker readers?
We did the Dinah Shore show with Joan Rivers and a teen-idol kid. Joan was one of the best cussers I've ever heard. She could go non-stop for several minutes without a single repeat. The teen-idol kid had a hat needle about 8- inches long, and was having a fine time backstage sticking it in people. He tried to jab me with it, and I gave him a proper "Delta Howdy-Doo" upside his head. He didn't think it was funny, but I did.
BB: If you didn't follow your musical dream, what profession would you have wanted to go into?
King of a decent sized island nation in the Pacific.
BB: How long have you been a fan of the sport of boxing?
Since I was 14. I fought Golden Gloves for a year and got my butt whipped. I was fast and could hit people at will, but couldn't hurt them. Eventually, they'd land that punch, and would tell me what happened when I woke up. I learned to appreciate the art of boxing then. It did help me, though. Learning to box ended the bullying I had lived with in my neighborhood. One of those bastards messed with me, and he hit the ground like a hefty-bag full of Campbell's Soup. Nobody bothered me after that.
Tie – Muhammad Ali and Joe Frazier.
BB: Who are your three favorite fighters in boxing today?
Not so familiar with current boxers as I used to be, but I saw Canelo Alvarez and Andre Ward fight, and they were impressive.
BB: What is the greatest fight you have ever seen and why?
Muhammad Ali's comeback fight against Jerry Quarry in Atlanta, but that's probably because I had a ringside seat. In my view, the fights of today aren't even close to the Ali-Frazier-Foreman-Norton days. I suppose that makes me sound old. Which I am.
BB: If you could play matchmaker for one "Super Fight", who are you matching up and what do you think the outcome would be?
Gotta' go old school. Ali in his prime against Foreman in his prime. Winner? Foreman.
BB: Do you favor a mandatory retirement fund for all boxers and if so, how do you think it could be accomplished?
Yes. Definitely. Seems like they could take a cut of all championship fights and start a fund. Something like 10%. The champion boxers would still make enough money to have a yacht that might not be an aircraft carrier, but it could be converted.
BB: Favorite boxing movie?
Raging Bull. I've seen Rocky too many times.
BB: Favorite non comedy movie?
Last of the Mohicans
BB: Favorite comedy movie?
Blazing Saddles
BB: Favorite Actor?
Robert DeNiro
BB: Favorite Actress?
Michelle Pfeiffer, only because of "The Baker Boys" movie.
Frank Sinatra
BB: Since we both share Francis Albert Sinatra as our favorite singer, is there one song you like the best?
I've Got You Under My Skin
BB: If they did another duets album with Frank, and you were asked to do one, which would you love doing?
Fly Me To The Moon
BB: With your expertise in music, what do you think made Frank an artist of legendary stature that will never be duplicated?
His tone combined with his attitude set him apart. He was beyond Bond cool.
BB: If you had to pick one song Francis recorded that you feel is an absolute vocal masterpiece, what is your choice?
"Girl From Ipanema" with Jobim mainly because it's the apex of class and style.
BB: Was there one song that Frank never recorded that you wish he would of?
La Vie En Rose by Edith Piaf – Many crooners covered it, but Sinatra would have killed it.
BB: What is your favorite Frank album?
Francis Albert Sinatra & Antonio Carlos Jobim
BB: Favorite sound or noise?
Rain on the roof.
BB: Least favorite sound or noise?
Chainsaw rock tied with rap music.
BB: Favorite Food?
Bacon Sandwich
BB: If they did the life of Bruce Blackman, who plays you?
Matt Damon
BB: What is one thing you can share with the readers that they may be surprised to hear?
I was a running back in football and the state sprint champion. Got a full track scholarship to Mississippi State. Could have played football, but my shoulders wouldn't stay in joint.
BB: If you could meet anyone from any time in history, who would it be and what would your first question be for them?
General George Patton. "If you had captured Hitler alone in a dark alley, what would you have done, and would you let me watch?"
BB: Finally, what is the saying you live your life by if you have one?
"Keep going until you can't go anymore. Then keep going."
Bruce has a book coming out next spring, "The Road To Moonlight Feels Right," and it gets down in the weeds with these stories.
Check his website out here. 
[si-contact-form form='2′]