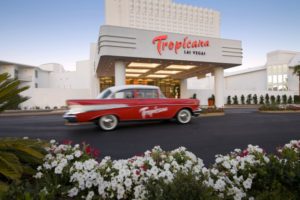 By Larry Henry
There aren't many major establishments left in Las Vegas like the Tropicana where the country's most famous (and infamous) mob-connected people once walked.
Though it has undergone expansion and renovation through the years, the 60-year-old Tropicana is not the most luxurious resort in town. It has a small gaming area and a sportsbook consisting only of a ticket counter — no television screens to watch the games on, no chairs. Sports fans are better off being at places like Caesars Palace or the Westgate.
But if you want to stand where the big names in Las Vegas Mafia history once stood, head to "the Trop."
I recently shot a video of the Tropicana gaming floor that you can view by clicking here.
Mafia buffs have a lot to like about the famed Tropicana, located on the Strip near the airport.
According to Nicholas Pileggi's 1995 true crime book "Casino: Love and Honor in Las Vegas," the Tropicana is where the Chicago Outfit's Frank "Lefty" Rosenthal lived for a while several decades ago and where his future wife, Geri, worked as a $20,000-a-year dancer, though she made far more money, even as much as $500,000 annually, "hustling chips and partying with high rollers."
Pileggi's book became the basis for the mid-1990s blockbuster movie "Casino."
The Tropicana also was at the center of a massive federal investigation into skimming, exposing the connection between the Las Vegas underworld and Kansas City mobsters. For more on the Las Vegas-Kansas City connection, visit former Kansas City detective Gary Jenkins' website, Gangland Wire.
Also, this 1983 Las Vegas Sun story includes details about the Tropicana skimming scandal.
Not every Tropicana guest involved in Mafia lore was an actual organized crime figure.
Two famous people who spent time at the hotel-casino were novelist Mario Puzo and filmmaker Francis Ford Coppola. The two stayed there while writing the script for "The Godfather," according to this Los Angeles Times story.
The stories about the Tropicana don't end there.
In the 1950s, for instance, authorities found a note on mob kingpin Frank Costello, detailing hundreds of thousands of dollars in winnings at what turned out to be the Tropicana. This story on The Mob Museum's website gets into Costello's connection to the hotel:
That's just a sampling of what mob aficionados will like about the Tropicana.
Even today, while standing on the gaming floor, it is not difficult to imagine Puzo and Coppola at a craps table, or Frank and Geri Rosenthal strolling through the casino.
Being in the Tropicana gives you a true sense of the city's mob history.
Larry Henry's YouTube channel includes videos he shot of mob sites in Las Vegas, the apartment building in Santa Monica, California, where Whitey Bulger was arrested, and the remote Arkansas airport where Barry Seal transported drugs into the U.S for the Medellin Cartel. Subscribe HERE.