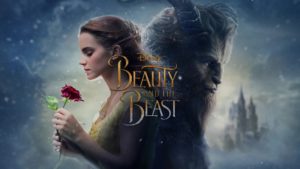 When you look movies set to dominate the 2017 worldwide box office, there are beauties and there are beasts. How did Fate of the Furious make over a billion dollars while one of the best films of the year, Logan Lucky, bombed? I'll tell you how: the public (as a whole) doesn't give a damn about quality; it wants spectacle; it wants CGI cars being chased by a submarine; it doesn't want (or at least need) Oscar-worthy storytelling.
People now look at movies and ask themselves: is it worth spending cash and seeing in theatre or can I wait and download it at home? It's a sad state of affairs, but reality is that the public wants to see super heroes, Vin Diesel, and Disney characters on the big screen, while quality sits on the sidelines waiting and collecting awards. Right Moonlight?
Currently standing on top of the box-office mountain is Disney's live adaptation of Beauty and the Beast, a film that brought in kids from all over, and their moms. If there was ever a formula to cash in at the box office, it's telling a story that attracts both females and kids. That's double dipping into two very large audience pools and, when it's a tale as old as time, well that's just a recipe to print money.
For now, Disney's big hit is living happily on top, but will it be happily ever after or is there another 2017 release that rip off all those rose petals and send the Beast packing?
Usually, any Transformers flick would be in the discussion but this year's The Last Knight underperformed. Hopefully, people are starting to catch on that Michael Bay is stealing their money. Wonder Woman couldn't lasso itself to the top, either, which doesn't bode well for Justice League packing a super-punch.
It appears that evil clowns and Blade Runners might also find it challenging to not only take on Belle and her hairy husband but to even hit that elusive billion-dollar mark.
There is a new hope on the way, though. There is one last Jedi remaining which could use the force to make more money in a matter of weeks than Beauty and the Beast made in months. I'm talking about that little indie film Star Wars: The Last Jedi, which opens on December 15. In 2015, The Force Awakens nudged its way over the two billion-dollar threshold and became the third-highest grossing film ever. Last Jedi will do similar numbers eventually, but will it have enough time to win the 2017 box-office race? It will be close!