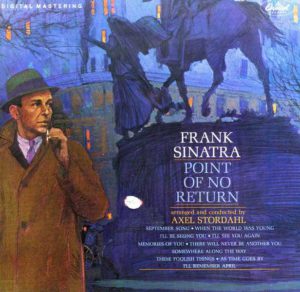 By Jerry Pearce
September 11th 1961. Things were coming to an end between Frank Sinatra and his record label of the preceding eight years, Capitol, and Sinatra couldn't be happier. Fully immersed for more than a year in the amalgam of his own record label, Reprise, the singer couldn't wait to fulfill the final recording project of his contract with Capitol, and while he was anxious to get the work over with, the album that would result would show no sign of rush on the part of the vocalist.
While his last album recorded for Capitol was a swingin,' stompin,' set of big band tunes, his third with arranger Billy May (Come Swing With Me!), his last album for Capitol would consist of tender, loving ballads and saloon songs, the songs Sinatra cemented his reputation on.
The album's title: "Point of No Return."
The title was unique in many ways, a harbinger for the disintegrating relationship between vocalist and label, and also a header for the collection of twelve ballads forming a musical journey of lost love and heartbreak. The musical highlights of this album are many, thanks especially to the wonderful arrangements crafted by longtime Sinatra associate Axel Stordahl.
Stordahl and Sinatra had been working together for many years, beginning with their mutual employment with another key figure in the Sinatra legacy, Tommy Dorsey, many years before. Stordahl would follow Sinatra to his solo output at Columbia Records, orchestrating the majority of Sinatra's recorded work to which would soar him to new heights of celebrity.
Expressing a reluctance to try out new sounds, Sinatra also had Stordahl on hand to orchestrate his first few recording sessions on Capitol Records. The work didn't chart particularly well; a short time later, Sinatra met arranger Nelson Riddle at a subsequent recording session, heard some of Riddle's work, and the rest, as they say, is history. Having Stordahl on hand for the final sessions gave a sense of conclusion to the Capitol era of record making, perhaps the most fruitful and game-changing period of Sinatra's long career.
Accounts vary as to the nature of the sessions; Stordahl was becoming sick around the time of the sessions due to a prolonged illness, and Sinatra saw using him to arrange as a thankful gesture to their many years of working together, a parting kindness. Others describe a temperamental Sinatra in the studio, impatient to leave Capitol for good and also annoyed by Stordahl due to a business decision the arranger had made in the recent years prior, involving singer Eddie Fisher.
Whatever the case, the album was laid down in two sessions, fifty-six years ago this week, culminating on September 12th, 1961.
It was released on LP the following March of 1962; as an in the compact disc era, the four songs which Stordahl orchestrated for Sinatra at the beginning of the Capitol era are included as a bonus.
As with the ballad albums featuring the work of Nelson Riddle and Gordon Jenkins, this collection is vocal triumph, another grand chapter in the career of a legend known as SINATRA
The complete album play list is as follows.
When The World Was Young
I'll Remember April
September Song
A Million Deams Ago
I'll See You Again
There Will Never Be Another You
Somewhere Along The Way
It's A Blue World
These Foolish Things (Remind Me Of You)
As Time Goes By
I'll Be Seeking You
Memories Of You
Until next time, Sinatra lovers!
Jerry Pearce is an amateur singer in the vein of Frank Sinatra, Perry Como, and Dick Haymes and has released two discs of standards music, Crossroads in 2010, and One Summer Night in 2016. Samples of his music can be heard on his YouTube Channel. To purchase his CDs use the form box below.
Comments or questions are welcome.