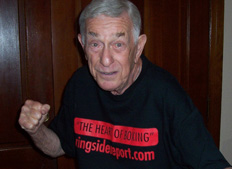 By "Bad" Brad Berkwitt
This one hits close to my heart. Legendary comedian, writer and actor, Shelley Berman died yesterday morning at the age of 92 at his home in Bell Canyon, Calif. His publicist, Glenn Schwartz, said the cause was complications of Alzheimer's disease. In 1959, Berman was the first comedian to ever win a Grammy Award for his comedy Album, Inside Shelley Berman.
Years, later, I would get to know Berman personally when in 2007, I interviewed him in a two parter for Ringside Report (Shelley was a huge boxing fan as is his widow, Sarah). Read Part I, Read Part 2
Berman was an absolute delight to talk with for several hours.
NewzBreaker extends our condolences to the Berman Family in their time of grief.
[si-contact-form form='2′]