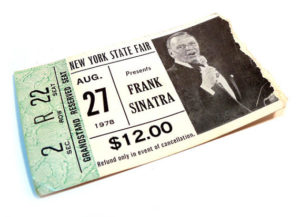 By Jerry Pearce
A new feature of this column will feature relatively brief stabs at Sinatra history as we connect present time dates with corresponding timely historical moments in his career. For "This Week with Frank," we travel to Upstate New York…
August 1978. Sinatra was debuting with his orchestra at the Grandstand Stage of the New York State Fair in Syracuse, New York. Concerts at the State Fair were debuted in 1976, and during the Fair's third season, Sinatra would appear in a memorable concert date. Although he would never play the fair again, the Grandstand Stage would host the cream of the crop across the American music industry, becoming the stuff of legend before the Grandstand performances were discontinued in 2015 when the event moved to a new venue during fair time.
Sinatra's appearance would be sold out, and tickets and programs from the appearance today fetch top dollar on auction sites, the accompanying photograph for this article borrowed from such an auction. His setlist for the August 27th show, as documented by a historian collecting data on every concert appearance hosted by the State Fair, was a usual mix of classic and newer material that was typical of this era of Sinatra's career, including his new "hustle" version of "Night and Day" composed by Joe Beck, newer concert additions like his version of "Maybe This Time" and Elton John's "Remember," not to mention a performance of Don Costa's arrangement of "You and Me (We Wanted It All)," a tune which still had a year to go before it was laid down by Frank in studio for the "Trilogy" album. Also included was the Nelson Riddle fused medley of "Gal Who Got Away/It Never Entered My Mind" later included in the "She Shot Me Down" album. The complete set list is as follows:
"Night and Day"
"At Long Last Love"
"All of Me"
"The Lady Is A Tramp"
Medley:
"Didn't We"
"Someone To Watch Over Me"
"Something"
"My Funny Valentine"
"Baubles, Bangles and Beads"
"The Gal Who Got Away/It Never Entered My Mind"
"You and Me (We Wanted It All)"
"The Oldest Established"
"Lonely Town"
"My Kind of Town"
"Send In The Clowns"
"Remember"
"Maybe This Time"
"My Way"
"America The Beautiful"
The "Theme From New York, New York" had yet to eclipse "My Way" as Sinatra's bombastic closing tune. He would first perform "NY" the following fall at Radio City Music Hall, with the recorded studio version to also follow on "Trilogy" within another year.
Interestingly enough, accompanying him with his baton was newly slated musical director Vincent Falcone, a native of Syracuse. Falcone speaks in his autobiography of a situation in which he asked his boss if he could get tickets for some of Falcone's family members, something Sinatra granted with a quick nod of his head. This may have been the concert appearance where the exchange took place, a nervous encounter Falcone describes well in his book.
Stay tuned for more "Frank Moments."
Until next time, Sinatra lovers!
Jerry Pearce is an amateur singer in the vein of Frank Sinatra, Perry Como, and Dick Haymes and has released two discs of standards music, Crossroads in 2010, and One Summer Night in 2016. Samples of his music can be heard on his YouTube Channel. To purchase his CDs use the form box below.
Comments or questions are welcome.