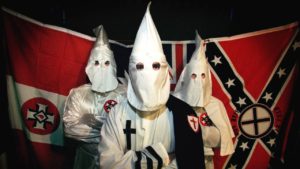 In light of the tragic events in Charlottesville, Va., true-crime network Investigation Discovery (ID) will encore an episode of its series HATE IN AMERICA about white supremacy. The episode "The Klan on Trial" will air this Thursday, August 17 at 8/7c. Hosted by Emmy Award-winning journalist Tony Harris, HATE IN AMERICA showcases the heroic work of premier civil rights advocacy organization, the Southern Poverty Law Center (SPLC) and its legendary founder, Morris Dees. The SPLC is currently tracking more than 900 active hate groups across the country, including the KKK and neo-Nazis, that target entire classes of people for their race, religion, sexual orientation, or other immutable characteristics. In addition, ID and the SPLC are partnering to develop an all-new special examining the recent surge in white supremacist activity.
"While this occasion is solemn, we embrace the opportunity to spread SPLC's positive message of fighting bigotry through education and holding hate groups accountable for their injustices," said Henry Schleiff, Group President, Investigation Discovery, Destination America, and American Heroes Channel. "Now, more than ever, it is imperative that we use our national platforms to highlight the very important work that Morris and the SPLC are doing to expose cases of extreme prejudice and, indeed, hatred."
"The Klan on Trial" explores some of the SPLC's most riveting court cases, starting with the Michael Donald case – a heinous lynching of a young man in the early 1980s that prompted SPLC founder Morris Dees to sue the United Klans of America (UKA) on behalf of the victim's mother. In this landmark court decision, the UKA's violent leadership was held responsible for the unspeakably violent and racist acts of its members, helping to turn the tide against organized hate in our country. Host Tony Harris also digs deep into the deeds of notorious white supremacist murderer Glenn Miller, who made headlines when he went on a shooting spree at a Kansas Jewish Community Center in April 2014.
HATE IN AMERICA "The Klan on Trial" is produced for Investigation Discovery by NBC News' Peacock Productions with Sharon Scott as President and GM, and Elizabeth Fischer and Knute Walker as Executive Producers. For Investigation Discovery, Lorna Thomas is executive producer, Sara Kozak is senior vice president of production, Jane Latman is executive vice president of development, Kevin Bennett is general manager, and Henry Schleiff is Group President of Investigation Discovery, American Heroes Channel & Destination America.