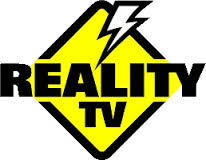 By Tatiauna Miller
Sunday night I got caught in the web of reality TV. It was like watching a couple argue in the car next to you or watching someone's child have a temper tantrum in the mall. Those are all things you're embarrassed to see happening in front of you, but can't look away. That's what reality TV is for me. I felt like both my eyes and brain were held hostage, and a perverse part of me enjoyed it. The conscious part knows a majority of these shows, if not all of them are staged for maximum messiness, but again, I couldn't turn away. Any minute I was going to turn into a pillar of salt as I looked on.
The night started with me watching about 5 minutes of "Keeping up with the Kardashians." I tuned in to Kim calling some stranger a slut and a whore and bragging to her cronies and Kanye that she went ghetto on her. First thing, I want to know is how she can "fix her mouth" to call someone a slut/whore, but got rich and famous off a porn?
Also, what the hell does she mean by ghetto? She looked more like a hypocritical asshole to me. Just 5 minutes of that show had my twitter fingers itching! Lucky, I don't have a Twitter account or I'd "confefe" all on their Twitter pages. I don't do Twitter because I hate to read people's thoughts and feelings. I used to like Instagram, but now people post screenshots of their sad ass tweets. That pisses me off, now I can't get away from their feelings. It would be nice to post a nice picture and put your feelings underneath so I can choose to NOT read it.
Kim's tantrum turned my stomach, so I flipped through a million channels to return yet again to another reality TV show "Love and Hip Hop Hollywood." Again, I felt like Lot's wife, I wanted to look away, but I was trapped. This show was very gossipy and annoying. A bunch of braggart D-list music people that, schmoozed and talk trash behind each other's back and sleep with each other's mates. Sounds like a messy ass life, but I guess that's what makes this show interesting for some. Too many Peahens and Peacocks on this show; all the women looked like exaggerated Barbie dolls and all the men were short, flashy and mouthy.
The last show was the infamous "Basketball Wives" a pack of hateful, messy and violent women. The crazy part all the troublemakers on the show are in their 40s and 50s. They are known to fight, throw champagne glasses at each other, fight, social media beef and fight some more. I was riveted and embarrassed, like I saw someone fall, but had to look away because I didn't want to laugh in their face. Seems like every show is a fight at some restaurant or bar. I wonder if they have trouble finding places to film their endless lunch dates and dinner parties?
People really believe these shows are real. The fans sit around and talk about these people like they have a part in their lives and not realizing that these people are playing exaggerated characters of themselves once a week for thousands of dollars. Fans fight constantly on social media about who said what, who looked better in that dress, or wig. It's sad really because these fans emulate these reality stars in their real life. They want to act like them, talk like them, and dress like them. Why would you want to be like someone that's only famous because they're an Ex-wife of a basketball player, or a girlfriend of a famous singer's brother?
These shows are like a female's version of WWE. They have fancy intros, alliances with other characters, sparkly outfits, tons of wigs, make up and of course fighting. This is someone's entertainment no matter how ridiculous I think it is, easiest thing for me to do is just change the channel.
Thanks again for giving me your time! Have a beautiful day, laugh more and live more.
[si-contact-form form='3′]