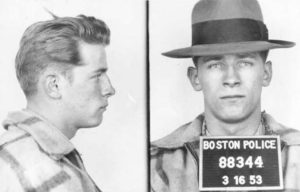 By Marla Eggar
James Joseph Bulger aka Whitey Bulger could turn on the charm one minute and become a psychopathic killer the next. He alluded police for years by becoming the Houdini of the underworld. Bulger was a master at manipulating circumstances and people. The South Boston native grew up in the first public housing project ever built in New England, The Old Harper. The area was predominately working-class Irish and was overall considered a safe place to raise your family. While Bugler's siblings did well in school and excelled, he dropped out and became a juvenile delinquent. As a teen, he was arrested by the age of 13 for stealing off the back of a truck.
Throughout his neighborhood he was considered a street-fighter who relished at thumbing his nose at authority. By the early 1950s the playground legend expanded his horizon to include bank robbery. Bulger stole from a string of banks from Rhode Island to Indiana. However, by 1956 he was arrested and sentenced to 20 years in jail. During that time Bulger invested in both his mind and body. Still, a criminal at heart he dedicated his time to books about the military adopting to a more diligent demeanor while also becoming a fitness fantastic. In addition, while incarcerated Bulger became involved with in – house experiments that lowered his prison term.
The "truth serum" Bulger and other inmates were given was actually LSD. The effects left Bulger with headaches and sleep deprivation that plagued him for the rest of his life. After serving nine out of his 20-year sentence Bulger was paroled and he returned to South Boston. His brother, William Bulger "Billy" who had become an influential political and educational force in Massachusetts got him a job as a janitor in a courthouse. Before long, Bugler also became an enforcer for the Killeen organization.
It was there he came across an old childhood friend and fellow Southie John Connolly an FBI agent. Connolly, (like every other FBI agent in the United States at the time) was working to build a case against La Costra Nostra. Connolly, recruited Bulger who he planned on using as an FBI informant to help bring down the Patriarca organization. Thinking it would distract law enforcement from his own charade, Bulger went along with the idea. As an informant Bulger information was really a rue. He never really gave any information that was of any value to the FBI.
In one instance, in February 1979, federal prosecutors indicted members of the Winter Hill Gang for fixing horse races. Bulger and another informant we're charged but not named in the indictment, thanks to FBI handler John Connolly. Local authorities who knew of Bulger's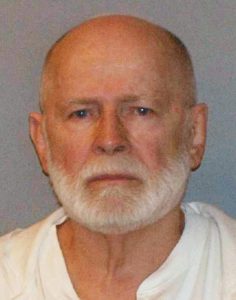 involvement became suspicious of how he and the other defendant evaded jail time. When the Winter Hill Gang was jailed, Bulger took over their operations and consolidated his power by using his FBI status. During the highlight of Bulger's criminal career (in which Johnny Depp did a good job portraying in Black Mass) he ran several successful yet illegal schemes and operations. His downfall came when the authorities formed a joint task force into his gambling operations.
The FBI was purposely kept in the dark about the investigation. Once enough bookies agreed to testify against Bulger the prosecution built a RICO case against him. When Bulger caught wind of the charges, it prompted (what would become) a 16-year manhunt with his girlfriend. In time, Bulger would become #2 on America's Most Wanted (after Osama Bin Laden) with a reward of 2 million on his head. Once caught, Bulger was sentenced to 2 life terms plus five years and his girlfriend 8 years for assisting a fugitive.
[si-contact-form form='3′]