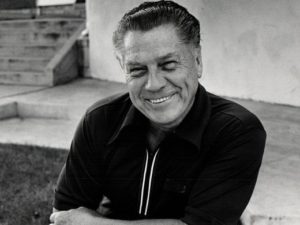 By Larry Henry
By unearthing a new name in the Jimmy Hoffa disappearance, a noted organized crime journalist and author could be one step closer to solving the 42-year mystery over what became of the former labor leader's body.
Knowing for sure what happened to Hoffa's body — whether Hoffa was cremated, as some have suggested, or buried or crushed and turned into a hubcap — also could end any dispute over who murdered the corrupt, longtime Teamsters Union boss.
This month, Dan E. Moldea, author of the authoritative 1978 nonfiction book "The Hoffa Wars," disclosed an intriguing bit of information that a source told him a couple of years ago regarding the Hoffa body.
The source said Vinnie Ravo, a New Jersey mobster associated with the Genovese crime family and a pal of several New York Giants football players, was involved in getting rid of the body.
Ravo died in prison in 2006 at age 70, but Moldea, seeking answers in the Hoffa disappearance, later contacted the mobster's widow and tried to reach former Giants football player Lawrence Taylor.
Nobody wanted to talk.
But what Moldea revealed about a new name is tantalizing. And the timing is perfect.
The disclosure of a new name, published on Moldea's website comes a little more than a week before the July 30 anniversary of Hoffa's disappearance.
On that summer day in 1975 around 2 p.m., the squat, pugnacious Hoffa, attempting to regain leadership of the powerful labor union after serving time in prison on jury tampering and pension fraud convictions, vanished outside a suburban Detroit restaurant, the Machus Red Fox.
The 62-year-old Hoffa had gone to the Red Fox supposedly to meet with a couple of Mafia honchos to resolve a long-standing feud he'd had with one of them, a ranking New Jersey hoodlum named Anthony "Tony Pro" Provenzano.
It is widely believed that Hoffa was taken from the parking lot of that restaurant and murdered somewhere in the Detroit area.
Moldea has written that the best evidence, based on information he obtained from key sources, is that a Mafia figure named Salvatore "Sally Bugs" Briguglio is the one who killed the former union boss. Hoffa then was stuffed into a 55-gallon drum and shipped back East more than 600 miles on a Gateway Transportation vehicle to be buried in a landfill on the Hackensack River in Jersey City.
According to various accounts, the demanding Hoffa was killed because some Mafia higher-ups didn't want him taking over the Teamsters again and didn't like the way he was running his mouth about exposing the union hierarchy's connection to the mob, a crooked alliance that Hoffa himself forged when he ran the show.
But that's not the end of the story.
As Moldea points out in the item he posted on his website this month, rumors have persisted for years that Hoffa's body later was moved from the Jersey City landfill.
That makes the information about Vinnie Ravo even more important because Ravo's possible involvement opens new avenues of inquiry into who did what.
It gets better.
Ravo, a thug with an arrest record longer than Santa's scroll, also had a hidden interest in the 1980s in a "go-go bar" a mile from Giants Stadium in New Jersey. To the dismay of N.F.L. bigwigs, some of the Giants players were pals with Ravo and hung out at the bar.
The Giants players of that era who were friendly with Ravo include Lawrence "L.T." Taylor, Brad Van Pelt and Brian Kelley, according to New Jersey officials. Ravo was a godfather of one of Kelley's daughters.
A shady connection between mobsters and professional athletes is troubling in itself, raising suspicion that games might be fixed. Moldea's 1989 revealing book "Interference: How Organized Crime Influences Professional Football" explores that issue.
But the thing that some Hoffa sleuths might find especially interesting is the proximity of Ravo's bar to the stadium.
Even the mention of Giants Stadium is bound to revive suspicion in some circles that Hoffa's body could have ended up there after all, if Ravo, who was active in that vicinity, somehow had a role. The Giants Stadium theory has bounced around for years, though many have discounted it.
The stadium has since been demolished. The New York Giants (and New York Jets) play their home games across the state line in New Jersey in a newer structure built near where the old Giants Stadium once stood.
Stadium theories aside, Moldea's news about another possible person raises hopes that valuable information will surface regarding Hoffa's final resting place.
Moldea is the only reporter to have interviewed the major players, including the now-deceased Briguglio, in the disappearance saga. Moldea has been on the Hoffa trail for decades and has solid sources on both sides of the law. Whatever he finds as he chases down this newest twist promises to be revealing.
While this is going on, a movie is in the works about Hoffa's killing, centering not on Briguglio as the triggerman but on a union heavy and mob assassin (and Hoffa friend) named Frank "The Irishman" Sheeran.
The movie, being directed by Martin Scorsese, is based on the 2004 book "I Heard You Paint Houses," by a former prosecutor, Charles Brandt, with extensive direct quotes from Sheeran, as a deathbed confession of sorts. Sheeran died in 2003.
Painting houses is slang describing blood that paints the walls in a hit. "I heard you paint houses" are the first words Hoffa said to Sheeran.
Since Hollywood productions tend to cement certain events as historically accurate in the minds of some moviegoers, this film, set for release on Netflix in a year or two, is bound to polarize Hoffa hunters even more. Moldea, for instance, disputes the contention that Sheeran killed Hoffa.
A lot of interested people are going to be watching how all this shakes out. The Hoffa disappearance is a crime mystery with enduring widespread appeal. Hoffa was hated by some, loved by others.
Even now, Jimmy Hoffa is regarded as an icon among many in the union, where his son, James P. Hoffa, is the general president.
To this day, although Hoffa disappeared 42 years ago, the Teamsters website sells T-shirts and a lapel pin with the inscription, "I'm a friend of Jimmy Hoffa."
A picture of Jimmy Hoffa also is on the lapel pin and T-shirts, showing a smiling, self-confident man radiating strength and an air of invincibility, as though he believes he cannot not be touched.
Larry Henry's YouTube channel includes videos he shot of mob sites in Las Vegas, the apartment building in Santa Monica, California, where Whitey Bulger was arrested, and the remote Arkansas airport where Barry Seal transported drugs into the U.S for the Medellin Cartel. Subscribe HERE.
[si-contact-form form='3′]