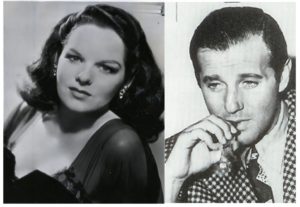 By Marla Eggar
Virginia Hill is best known for her relationship with Bugsy Siegel. She was given the nickname "Queen of the Mob" by Time Magazine in 1951 after the Kefauver Hearings. Virginia Hill who was born 1916 in Lipscomb, Alabama had a reputation for being promiscuous from the very beginning. In a day and age when it was rare for a female to use her sexuality for gain, Hill had no qualms about using her looks and sexual talents to conceal money, hide stolen goods or anything else the mob needed from her.
Nevertheless, Hill's story begins when she started working as a waitress at a popular mob hang out for Al Capone associates. It was there the 17-year-old met a Chicago mobster and bookmaker by the name of Joseph Epstein who apparently, according to sources, wasn't a very good looking character. Still, what he lacked in looks he made up for with money… Stacks of it!
Hill impressed Epstein with her business like attitude and shortly after, began working for him doing favors both sexual and mob related. Through Epstein, Hill made contact with some of the syndicates most notable mobsters like: Frank Costello, Joe Adonis, Tony Accardo and Frank Nitti all of whom she is rumored to have slept with at one time or another. Hill became a reliable contact in the mob world by doing what she was told and keeping her mouth shut. Eventually she would be considered equal among her male constituents, to a certain degree. Jack Dragna once stated that Hill "was the only woman who can be trusted to keep her mouth shut."
This statement was never more apparent then when Hill was summonsed to testify at the Kefauver Rackets Committee in 1951. Charles W. Tobey a U.S. Senator from New Hampshire asked Hill "Just how could a small town farm girl from the deep South become one of the most important female figures in mob history?" Hill's response was both classic and raw "Because I'm the best damn cocksucker in the world"… What the hell was she thinking???
Now I've heard variations of that statement go either way but regardless for a woman in the 1950s to talk like that was a BIG no-no. Even a nonconformist wouldn't dare to speak that way in public. Anyhow, Virginia Hill definitely knew how to leave her mark on a man. Epstein, Virginia Hill's one time lover and long time benefactor, told Meyer Lansky "Once that girl is under your skin, it's like a cancer. It's incurable." And evidently when Bugsy Siegel met the beautiful and sassy Virginia Hill, he felt the same way. Hill's life changed forever when she met the blue-eyed heart throb. Unlike with other mobsters Siegel won her heart.
Even so, the love affair was not without its complications. It's reported the two often quarreled (violently at times) and when Joe Adonis, who was very fond of Virginia, found out about the relationship it almost started a war. As the story goes, when Lucky Luciano was released from prison and before he was deported back to Italy mobsters came together to give him a lavish sendoff aboard ship. Well, both Siegel and Adonis were present and so was the hostility in the air exhibited by Adonis towards Siegel over Virginia. Just the same, Siegel never backed down and was fiercely jealous when it came to Hill. Despite the fact that Bugsy Siegel and Virginia Hill never married, they remained a couple until Siegel's death on June 20, 1947. It's been theorized that Hill possibly set Siegel up over the financial losses from the Flamingo, which was estimated to be around 2 million, again, there's been no concrete evidence over the years to support that hypothesis.
Regardless Hill had her own worries to attend. The IRS was alerted to Hill's lavish lifestyle and with no legal source of income to vouch for her way of life the IRS came after Hill for back taxes. To escape her legal troubles, Hill married Hans Hauser, a Sun Valley ski instructor, and the couple fled to Europe. In time, Hill's California home, cars and jewelry were auctioned off to settle her tax debt, but it still wasn't enough. Within a couple of years, her marriage fell apart and she found herself broke and alone.
Destitute she once again relied on lifelong friend Joseph Epstein to financially provide for her while in Europe. Be that as it may, Hill fell into a deep depression that she would never bounce back from. On March 24, 1966 at the age of 49, Hill died from an apparent suicide caused by an overdose of sleeping pills.
She is buried in Salzburg, Austria.
[si-contact-form form='3′]