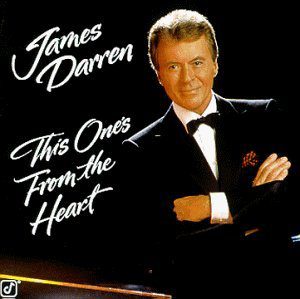 By Jerry Pearce
An enthusiastic "thank you" came from James Darren when we took a picture together at the Chiller Theater convention held at the Morristown Sheraton in May of 2015. The thanks was in response to my telling him how much I enjoyed his two albums of standards music that he had released in previous years. It was shocking that I seemed to tower over him; having seen him numerous times on television both from present shows and rebroadcasts of his earlier series, I always thought he brought a great presence to his roles, and when you think that notion of an actor, you assume them to be larger than life when meeting them physically. After exchanging a few pleasantries, he signed my copy of one of his albums, and I walked away feeling pretty good. As someone who truly loves the Great American Songbook, it meant a great deal to tell one of the "keepers of the flame" how much joy his music had brought to me
.
During a search for Sinatra-related music on Amazon more than ten years earlier was when I first came upon his albums. Darren had a storied career in both film and television, having co-starred in the Gidget pictures for Hollywood, not to mention his memorable turns on such television productions as a scientist in Irwin Allen's "The Time Tunnel" as well as a cop on the long running William Shatner police procedural "T.J. Hooker." In the 1990s, as production inched forward on the latest "Star Trek" spinoff known as "Deep Space Nine," a new role was created for a side story about a hologram system created by one of the officers, the person in the hologram being a hip, 1960s-style crooner in the vein of Sinatra known as Vic Fontaine. The role was first offered to Sinatra's son, Frank JR., himself an avid "Star Trek" fan, but Sinatra declined taking the role, stating that he only wished to participate if he could play an alien.
Having recorded a number of albums already during the 1960s and 1970s, and demonstrating a unique vocal ability, Darren took the role, and appeared several times over the course of the series, some of the episodes even taking place in the holographic world of 1960s Las Vegas that had been "constructed" for the character. Emulating the charm and poise that Sinatra and other contemporary singers of the 1960s made famous, the character of Fontaine was a hit with audiences of DS9 and remains one of the more memorable characters featured over the course of show.
When the Fontaine character was introduced, it became necessary to pre-record song numbers that would eventually be featured in the series. Concord Records, sensing an opportunity, spun this necessity into a full album project, with Darren selecting seventeen songs that would be released under the title of "This One's From The Heart," an excellent song package featuring the stardust of the Great American Songbook, several of which he would perform live as the character of Fontaine on the show.
Arranged (including the work of Marty Paich and Alan Broadbent) and conducted by veteran Sammy Nestico and recorded at legendary Capitol Studios in June 1999, the album features orchestrations of various musical strength, divided up between numbers featuring full symphony orchestra and some featuring a small jazz-oriented rhythm section with a few solo instruments thrown in for flavor. Darren croons and swings his way through the program, featuring his own stamp on the Sinatra hallmarks "Come Fly With Me," "I've Got The World On A String," "All The Way," "The Best Is Yet To Come," "Dancing in the Dark," "Night and Day," and "That Old Black Magic." He also provides his own interpretations on lesser performed standards, including "Here's To The Losers," "You'd Better Love Me," "Satin Doll," and "Sophisticated Lady." Altogether, a delightful listening experience from start to finish.
Sales were strong enough to warrant the production of a second album, and in this reviewer's opinion, the more interesting of Darren's two swing albums. While the first album owes heavily to Frank Sinatra, the second sees him paying tribute to, among other artists, Tony Bennett and Antonio Carlos Jobim, going off in his own direction while sticking to the lush orchestral combined with jazzy up-tempo formula. "Because of You," named after a Tony Bennett his song that Darren covers here, first became available from Concord in 2001.
A wider varying musical program is featured here, along with great new arrangements provided by Patrick Williams and superb vocals by the singer. In addition to the title track, Darren also performs "The Good Life" and "Boulevard of Broken Dreams" in tribute to Tony Bennett, the latter tune taken at an unusual bossa nova pace that works masterfully. In addition to other seldom standards with the likes of "My Old Flame," "Dream A Little Dream of Me," "My Kind of Girl" and "Blame It On My Youth," one of the crowning moments on the disc is Darren's hip swing cover of Spiral Staircase's hit 1960s song "More Today Then Yesterday." Featuring rocking rhythm from the drums and cute open and mute fills from the trumpet section, the track is a swingin' good time!
An interesting piece of trivia sits in the liner notes: Patrick Williams gifted an arrangement to Darren at the start of their first sessions, an orchestration of the great standard "Just One Of Those Things." As it turns out, Williams wrote the arrangement for Frank Sinatra in preparation for the "Duets" albums of the early 1990s (for which Williams arranged charts and conducted the orchestra). For reasons unknown, Sinatra never recorded the tune. Changing the keys slightly, Darren delivers, and it makes for a slam-bang opening number.
Both albums are still available. You can download them on iTunes, but being old fashioned and sentimental, I recommend going either to Barnes and Noble or Amazon and picking up the physical discs. You're in for a treat. Highly recommended, as usual. 5/5.
Until next time, music lovers!
Jerry Pearce is an amateur singer in the vein of Frank Sinatra, Perry Como, and Dick Haymes and has released two discs of standards music, Crossroads in 2010, and One Summer Night in 2016. Samples of his music can be heard on his YouTube Channel. To purchase his CDs use the form box below.
Comments or questions are welcome.