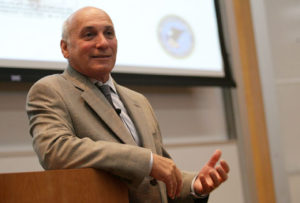 By Marla Eggar
Joseph Dominick Pistone better known as "Donnie Brasco" has made a name and reputation for himself by laying the groundwork to successfully infiltrate the American mob. His undercover experience has been detailed in his book Donnie Brasco: My Undercover Life in the Mafia which went on to become the basis for the 1997 film Donnie Brasco where Pistone functioned as a consultant to add authenticity. In addition, to the book, there was a (short lived) TV series Falcone, starring Jason Gedrick as Pistone and his life was used in an episode of FBI: The Untold Stories. (On a side note Jason Gedrick also played Cross De Lena in The Last Don, not Pistone relevant I just think he's really hot and worth the mention).
Pistone is a regular guest in the mini-series "Inside the American Mob" where his story is not only featured, but his expertise about the mob is recited. In 2004, Pistone decided to recall on his experiences again as Donnie Brasco in his books The Way of the Wiseguy and Donnie Brasco: Unfinished Business in 2007. In addition, he wrote a novel titled, The Good Guys, with Salvatore Bonanno. He has served as an executive producer on movies relating to the Mafia, including the 2006 film 10th & Wolf. Needless to say, Pistone has definitely used this Donnie Brasco character to his advantage.
Honestly, I respect the guy and the work he did for the FBI but on the other hand … I can't stand him! I feel like with every interview his story is enhanced (if not outright embellished) to build up his time as an undercover agent. I have no doubt that his job was problematic. Having to disappear for six years from family events and friends, living under the constant threat of being killed or exposed and taking on a persona and lifestyle that's not your own, is no doubt, traumatic.
However, to constantly emphasize to everyone that he "got over" on the mob seems to be more of a self-satisfaction thing to me, not to mention dangerous considering the $500,000 contract that was placed on his life at one point. Anyone trying to "make their bones" in that life or a name for himself could easily put a target on his back. Operation "Donnie Brasco" led to over 200 indictments and over 100 convictions of mob members. Can you say vendetta? It isn't worth the risk. We get it! You're an FBI hero!
For me, however I view the situation differently. I never liked the fact that he was the reason for Sonny Black (Napolitano) and Anthony Mirra death's. The reality that Sonny Black took his punishment like a man is of little consolation, even if commendable. Pistone is quoted as saying: "My intention in all of this was to put people in jail, not get them killed". Which brings me back to me original point, let sleeping dogs lie. Even now, Pistone travels in disguise, under assumed names, and with a license to carry a gun. He will not set foot in any location with a high mob presence for all the obvious reasons. Considering Pistone is still making movies and documentaries says a lot about him. He's either tremendously brave or overly confident in his ability to defeat the mob. Best advice I can give… tread softly. Biggie and
2Pac are still waiting for their murders to be brought to justice.
[si-contact-form form='3′]