Loading ...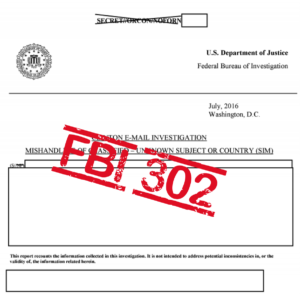 By Marla Eggar
Welcome back folks! This week I want you all to participate in a poll. Nothing presidential or political (thank God), but a process used by the FBI to help them gather information. Now this process is not exclusive to the mob, but never the less has been used for that very purpose. The FD-302 form is used by FBI agents to gather information to be used later as a reporting mechanism. You know like the reports we completed in high school. Basically, they conduct an interview (like you would with anyone else). One agent asks questions while the other agent writes everything down. The information taken consists of whatever the issue is at the present time. Typically, the person being interviewed is only relevant as a source of information. They don't provide personal information about themselves. Now the problem with this entire process is the FBI has a lot of leeway when conducting these interviews.
There are no lawyers present, no videotaping and no audio. It's just the FBI agents and the person being interviewed. On a side note, when a subject is being detained or just brought in for questioning they are made aware of the fact that they don't have to say anything without the presence of a lawyer. In recent years, interrogating or questioning have been done with video surveillance. This is added security for everyone involved. This way, if there's any discrepancies all we have to do is press rewind. Could you imagine if this process 302 process was applied in all areas of the law?
Keep that in mind as we continue. This report at the end of the day, is a conclusion based on what the agent surmises from the interviewed. It's not necessarily a reflection of what the interviewee was trying to convey. However, because of the breakdown in communication the FBI agents can use this discrepancy to file perjury charges against the person who participated in the interview. Now you be the judge. Does this process give agents too much freedom? Should someone who isn't articulate or their words misinterpreted by the agents be in jeopardy of jail?
Comments or questions are welcome.