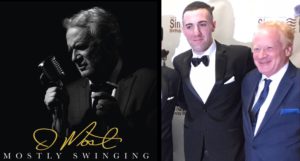 By Jerry Pearce
In some past installments of both "The Sinatra File" and "Pearce's Picks," I've been able to tie in my appearance at this past December's "Sinatra Birthday Bash" concert in Red Bank, New Jersey, with whatever topic I was covering that week, and in this edition of "Pearce's Picks," mention of that memorable day happens to be almost obligatory.
I was standing off stage right listening to some pretty sounds from the orchestra. Vocalist Zack Alexander had just thrilled the crowd with his interpretation of Sinatra's classic "Summer Wind," and now, trombonist Wayne Goodman was serenading the audience with a magnificent solo of the song "Time After Time." Echoing the days of Sinatra and Tommy Dorsey, when Wayne finished his solo, I would enter on a riser at the rear center of the orchestra and sing the vocal part of the tune.
Mixed with rattled nerves and anticipation, I stood listening to the beautiful emanation of Goodman's horn as I waited for the stage manager to my left to give me my cue. I suddenly felt a tap on my shoulder and turned to face an older gentleman dressed to the nines in suit and tie. "What song is this?" he asked me briefly. I responded and he said "Oh! This is YOUR intro!" I nodded in the positive and he gave me a smile with a few pats on the back. "Good luck pal, go get 'em!" he said before walking away. I don't know if he realized it, but if I had any doubts about walking out there to deliver my literal first singing performance before an audience, his kind words helped quell any fears that still existed.
That man's name was Donny Most, and yes, you know the name. Possibly known best for his iconic role as "Ralph Malph" on the classic 1970s television series "Happy Days," Most has had a prolific career in both film and television, as well as voice acting. His other forte has been exercising his vocal cords, having recorded his first self-titled LP in 1976, and in recent years, Most has adopted another love, the Great American Songbook, into his performance canon. With a four-song Christmas EP already available, entitled "Swinging Down The Chimney Tonight," February marks the release of his first full-length big band album, titled, cleverly, "Mostly Swinging."
Most's band set followed my song at the concert, and I was privileged to hear him perform live some of the tunes that are included in this delightful 13-song collection of big band classics. Released by Tempe, Arizona-based Summit Records, the album is a qualified treat. Trumpet player Willie Murillo provides the arrangements, and while Most's voice doesn't sound similar, his styling of phrasing in relationship to the music reminds me a bit of a young Tony Bennett. He names his favorite vocalists in the liner notes, declaring Bobby Darin as his favorite, and his homage to the legend comes across quite well in the opening track, "Lover, Come Back To Me".
Other highlights on the album include a wonderful latin-esque version of "Let's Fall In Love," a lovely duet with an unnamed female vocalist on the tune "C'est Si Bon," as well as fantastic readings of the ballads "I've Got It Bad (And That Ain't Good)," a personal favorite, and "Bewitched, Bothered and Bewildered." Most also swings heavy on the chart for "Love Is The Tender Trap," a clever re-imagining of a Neal Hefti arrangement written for Frank Sinatra for his first record outing with Count Basie in 1962. "Any Other Way", an original tune penned by Steve Lang, is another noteworthy performance, perhaps worth the cost of the album alone.
You'll be about two minutes into this album when the notion will suddenly dawn on you: Donny Most's talents aren't limited to his acting.
Having seen the man perform live, of course, this album comes highly recommended. It's probably the first major big band vocal release of this year, so please, get over to Amazon or your local record outlet, snatch up your copy, and enjoy a "Mostly Swinging" good time. 5/5.
Until next time, music lovers!
Jerry Pearce is an amateur singer in the vein of Frank Sinatra, Perry Como, and Dick Haymes and has released two discs of standards music, Crossroads in 2010, and One Summer Night in 2016. Samples of his music can be heard on his YouTube Channel. To purchase his CDs use the form box below.
Comments or questions are welcome.