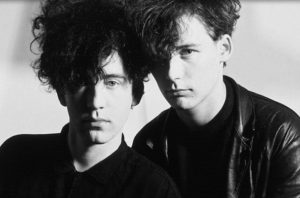 By Kristi O'Toole
The Jesus And Mary Chain never released a single bad song during all their years of existence, but it's been a long time since we've heard a new one from them. The band broke up in 1999. And though they reunited in 2007 and they've been playing shows on-and-off since then, they haven't released any new music since 1998's Munki. But today, we get the awesome news that a new album could be coming out early next year.
As Brooklyn Vegan points out, Creation Records founder Alan McGee recently told CBC that the Jesus And Mary Chain have recorded a new album and that'll be out in late March of next year: "They've made another album! It's a big deal! It's unbelievable. They've just made an album and I've signed them to Warners!" He claims it's coming out in late March on Warner Bros. That is a big deal! It is unbelievable! It's also unconfirmed. But McGee has a long and proud history of getting shit done, so it's probably safe to start getting excited.
When Kristi isn't writing for NewzBreaker, she writes supernatural suspense novels having three currently published. If you would like to check out any of her books they can be found online and at other major retailers like Books a Million and Amazon. Never one to rest, she also paints/designs shoes and items for the home. Check out her eBay store, Watered Down Vodka and her FB page.
Comments or questions are welcome.