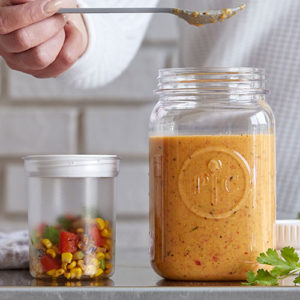 By Kristi O'Toole

An ideal on the go meal that you can feel good about eating.
Ingredients:
• 3 cups (750 mL) fresh corn kernels
• 2 medium red bell peppers, seeded and chopped
• 1–2 jalapeño peppers, seeded and chopped
• 2 green onions, chopped
• 2 tsp (10 mL) olive oil, plus additional for brushing
• 2 cans (14.5 oz or 284 mL each) chicken broth, divided
• ¼ cup (50 mL) sour cream
• 2 tbsp (30 mL) chopped fresh cilantro leaves
• 1 tbsp (15 mL) fresh lime juice
• 1 tsp (5 mL) ground cumin
Directions:
Combine the corn, bell pepper, jalapeño, green onions, and 2 tsp (10 mL) of the oil in a large bowl and toss to coat.
Lightly brush the Executive Nonstick Double Burner Grill with the additional oil using the Chef's Silicone Basting Brush. Heat over medium-high heat for 3–5 minutes.
Spread the vegetable mixture evenly over the grill pan. Cook undisturbed for 3 minutes. Stir and continue cooking an additional 3 minutes. Remove from the heat. Reserve ½ cup (125 mL) of the corn mixture in small bowl and refrigerate until ready to serve.
Place half of the remaining corn mixture and 1 can of chicken broth into a blender container. Cover and purée until well blended. Place the soup into a large mixing bowl. Repeat with the remaining corn mixture, chicken broth, sour cream, cilantro, lime juice, and cumin.
Refrigerate at least 1 hour.
To serve, top each bowl with 2 tbsp (30 mL) of the reserved roasted corn mixture.
Kristi stays busy with her writing, shoe designing and Pampered Chef business so she knows how precious time can be; she also knows how important eating healthy and showing your children life beyond fast food can be. The Pampered Chefs Happy Families segment is designed with busy lives in mind. The recipes presented will be fast, easy and affordable to everyone. The tools you need to complete these meals can be found on her personal website.
Comments or questions are welcome.