Loading ...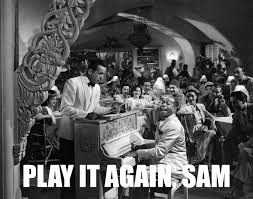 By Misty Beck
Turner Classic Movie Channel launched on April 14, 1994 by Ted Turner who is a media mogul and philanthropist of this amazing time capsule that is TCM. Turner launched the channel at a ceremony in New York City in Times Square. This date was chosen because it's the exact centennial anniversary of the first public movie showing in New York City which was April 14, 1894. In a trivial coincidence April 14th is also the date the Titanic hit the iceberg in 1912, though it didn't sink until the 15th.
Although TCM is now the only network showing 24 hour commercial-free programming of classic films it was American Movie Classics (AMC) who actually was the first channel to do so. They launched in 1984, but in the early 90's, AMC stopped using the commercial-free format and also played more recent films with dates ranging from 1970's to present, leaving TCM the only channel to devote its programming entirely to classic films, uncut and commercial free.
The 1st movie TCM broadcasted was the 1940 classic "Gone With the Wind" starring Clark Gable and Vivien Leigh. This film won an Academy Award for best picture. It was also my dear mother's absolute favorite film. We watched it several times whenever it ran on TCM. We then spent many afternoons that turned into evenings watching it together once it went to VHS and DVD. Around that time, I was in a relationship with a gentleman who was really dramatic when we argued, so whenever we would fight I couldn't wait to say "frankly my dear I don't give a damn".
Once he finally watched it with my mother and I he would do one up on me and would say "I don't think I will kiss you although you need kissing badly. That's what's wrong with you." Our fights would usually end in uproarious laughter. It is a wonderful movie and I have fond memories of watching it. If you haven't seen this classic at least once, try to do so. You will need 4 hours to spare, but with all the binge watching people to do for certain series and or shows this should definitely be on your to watch list.
I usually spend Sunday morning tuning into TCM. Sometimes I will catch a picture that I haven't seen and instantly be drawn in. Though I enjoy suspense films such as Hitchcock's "Dial M for Murder" or "Rear Window" which always puts me on the edge of my chair. My favorite classics are the comedy/musicals usually starring Frank Sinatra, Gene Kelly, Bing Crosby, Doris Day, and one of my favorites Marilyn Monroe.
If you are in need of an escape and a delightful trip back in time tune into TCM and let Frank Sinatra capture you in "The Tender Trap" (1955). Or you may get lucky and run across a "Man With The Golden Arm" (1955) which Sinatra was nominated for a Best Actor Oscar but lost to Ernest Borgnine for Marty. If you want a real pick me up Gene Kelly and Debbie Reynolds have just what you need in "Singin in the Rain" (1952). You have no idea how many times I did that song on a rainy day in the middle of the street. Doris Day will mesmerize with her vocal performances of the hit songs It's Magic in "Calamity Jane" from 1953 and Secret Love from the film "Romance on the High Seas" 1949.
As Halloween approaches TCM will be playing some of the best horror pictures ever made. Horror is my favorite genre of film so you can trust me. They usually play 1960's "Psycho" year round but surely you'll get a chance to see it this October. Other classic horror films I enjoy and recommend are "Nosferatu" (1922), "Frankenstein" (1931), and "House on Haunted Hill" (1959) starring Vincent Price. Side note while I was in the hospital having my son I saw "Diary of a Mad Man" (1963) also a Vincent Price classic and decided to name my son after the extraordinary Price. Yes, I told my son I paid homage to Price by naming him Vincent, and yes he thinks I'm nuts!
In closing sometimes thinking out of a box and watching or even doing something you're not prone to do could really surprise you and you may even enjoy it. So with that said, tune into a good classic if you haven't or haven't done so recently. If you have watched some of the classics, even several times over such as myself, here's what I have to say… Play it again Sam…
Comments or questions are welcome.