Loading ...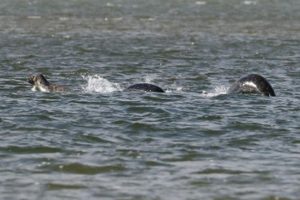 By Kristi O'Toole
A WHISKY warehouse worker has taken a picture of what could be one of the most convincing Loch Ness Monster sightings to date.
Amateur photographer Ian Bremner, 58, was driving around the Highlands in search of red deer – but stumbled instead across the remarkable sight of what appears to be Nessie swimming in the calm waters of Loch Ness. The father-of-four spends most of his weekends in the region taking photographs of the stunning natural beauty.

But it was not until he got back to his home in Nigg, Invergordon, that he noticed three humps emerging from the water which he thinks could be the elusive monster. The picture shows a two-yard long silver creature swimming away from the lens with its head bobbing away and a tail flapping a yard away, preparing to swim further on
The likely creature was spotted coming up for air close to the banks of the loch on Saturday afternoon midway between the villages of Dores and Inverfarigaig.
Ian said: "It's a part of the world that always makes you second guess what you're seeing. When you're up there you're constantly looking in the water to see if you can spot anything in there."
When Kristi isn't writing for NewzBreaker, she writes supernatural suspense novels having three currently published. If you would like to check out any of her books they can be found online and at other major retailers like Books a Million and Amazon. Never one to rest, she also paints/designs shoes and items for the home. Check out her eBay store, Watered Down Vodka and her FB page.
[si-contact-form form='3′]