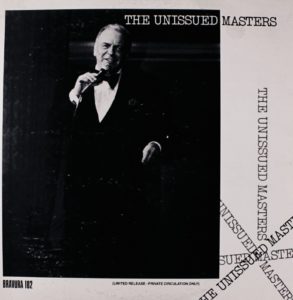 By Jerry Pearce
On June 6, 1988, Frank Sinatra entered the recording facilities at Evergreen Studios in Los Angeles, California, for what should have been a momentous occasion; for the first time in nearly two years, Sinatra was going to be recording some new music with a live orchestra. In this case, Frank had with him some fantastic big band charts newly written (and conducted at this session) by longtime collaborator and orchestrator Billy May. The orchestra was world class, including Sinatra regulars and semi-regulars Bill Miller, Irving Cottler, Emil Richards, as well as notable players like Snooky Young and Jack Sheldon, who would play memorable trumpet solos throughout the first selection recorded that evening, a swinging arrangement of the Victor Young-Ned Washington song "My Foolish Heart." Other tunes, including "Cry Me A River" and "If Ever I Would Leave You," were also on the roster. The album that was being planned was tentatively titled "Digital Sinatra," with a nod to the new technical wonders that were being achieved in modern recording.
Some two hours later, after Sinatra and the orchestra had rallied through a record seventeen takes of "My Foolish Heart," the Chairman called an end to the session with a goodnight to the orchestra. Although the musical contingent would remain behind to record instrumentals to the other scheduled tunes for the evening for Sinatra to potentially layer his voice onto later, for the singer, it was truly the end of an era. Few at the time would realize that, with the exception of the Duets albums as well as a Christmas charity single ("Silent Night") that would follow later, it would be the last time Frank Sinatra recorded a solo project in studio, as well as his last project falling under his subsidiary label with Warner Brothers, Reprise Records.
Many fans who have had the chance to listen to the penultimate recording agree that Sinatra should've kept going. (Three takes of the song would be released at various times in the coming years). It's a mystery as to why he halted the session. He's in fair voice, though after seventeen takes if Sinatra wasn't happy with his sound, rest assure, no album would be made. Indeed, there were other instances in Sinatra's career where planned albums were halted or revamped, either by the man, or nature itself. Below, a listing of just some of these instances:
Sinatra and Ella
Although they appeared together on record once, singing the soundtrack song "Necessity" for an uncompleted animated version of "Finian's Rainbow" in 1954, Sinatra and Ella Fitzgerald never recorded a full album together, although the idea was raised many times between the 50s and 60s. It's been said that Ella's manager Norman Granz was the person behind the halting of the project, due to bad blood between Sinatra and himself. Luckily, we are rewarded with seeing Frank and Ella together in the 1967 television special "A Man And His Music + Ella + Jobim," and live audiences were fortunate to see Frank and Ella perform together in a series of concerts at the Uris Theatre in New York along with Count Basie in 1975. Showing his respect to her as a singing partner, when the Duets concept was first brought to Sinatra in the early 1990s, his first response to the question as to who he would like to sing with was "…how's Ella doing?"
The Sands Story
Although "Sinatra at the Sands," unveiled in 1966, was the first live Sinatra album released on the market, plans to bring Sinatra in concert to record stores were first in the works nearly five years prior. Several concerts during Frank's November 1961 engagement at the Sands Hotel in Las Vegas were captured in anticipation of releasing a live recording. Accompanied by Antonio Morelli and his orchestra, the concert programme features a mixture of 1950s and early 1960s material with Sinatra in the midst of his vocal peak. For some reason it was never released, though a copy soon found its way to the private circuit. One evening of recordings was first released on the bootleg release "Saloon Singer" in the early 1990s, while another, improved performance was featured on the first disc of the "Sinatra: Vegas" boxset, and includes original concept art for the 1961 album when it was in its initial planning stages.
The Italian Songbook
Don Costa would be the arranger and conductor behind this project, which was kicked around after the success of their first record together, "Sinatra and Strings," in 1961. With Sinatra turning to less than traditional recordings as the 1960s progressed, including his collaborations with Antonio Carlos Jobim and Duke Ellington, the possibility for an album of Sinatra singing nothing but Italian songs took stronghold in 1967 when a selection of songs was submitted and approved by the Chairman, including "Al di La," "Mama," and "La Strada." It went no further then Costa having his mother sing the proper lyrics into a tape recorder for Sinatra to interpret properly before the project was shelved.
Sinatra/Jobim
Although this album, Sinatra's second collaboration with Brazilian composer Antonio Carlos Jobim was completed over a series of sessions in 1969, Sinatra felt a great deal of unease with some of the tracks recorded for the album, and after a few eight-track copies were sent out on delivery trucks, he would issue the order to kill the release. Seven of the ten tracks recorded for this album would later be issued as one side of the 1971 album "Sinatra and Company," while the three others would linger on European releases and comprehensive boxsets until they were reissued with the other seven tracks as "Sinatra-Jobim: The Complete Reprise Recordings" in 2010.
Studio Sextet
A hastily formed offshoot following Sinatra's time with the Red Norvo Quintet in the late 1950s, Sinatra's sextet led by Bill Miller would be the backbone behind Sinatra's legendary appearances at the 500 Club in Atlantic City in the early 1960s not to mention the globe-spanning World Tour in 1962. Sinatra was eager to get the musicians, including regulars Al Viola and Irv Cottler, into the studio to record an album. The idea was kicked around into the late 1960s, when the charts created for the small band were lost when a mudslide destroyed pianist Bill Miller's home.
The closest one comes to seeing non-concert material involving the sextet is a series of ads filmed in an Italian television studio for Perugina candy during the World Tour in 1962, featuring truncated versions of the songs Sinatra was currently performing in concert.
Saloon Singer
With the release of "Ol' Blue Eyes Is Back" and "Some Nice Things I've Missed" in 1973 and 1974, respectively, Sinatra seemed poised to begin building a new discography in the years following his first retirement. With two albums of pop and standards in the bag, he began planning his first "saloon" album in many years with arranger Gordon Jenkins. Although four songs were recorded, the project would then languish in development hell throughout the rest of the 1970s.
Only after Jenkins' work on the 1979 Sinatra album "Trilogy" was lambasted by the press and critics alike did the idea of a saloon album again begin to pick up steam. Sinatra, realizing his friend Jenkins was dying, wanted to give him a graceful sendoff. He did so in 1981 with the release of the album "She Shot Me Down," with arrangements by Jenkins. It is today considered one of the definitive Sinatra albums. It is however, assumed, that if the album as finished on time in the mid-1970s, the track listing would have been much different from the album that became in 1981.
The Four Seasons
An entire "operatic" album created by the man behind "You Will Be My Music," Joe Raposo, in the 1970s, the album was to feature Sinatra singing a special composition highlighting each of the four seasons. Written and delivered to Sinatra, but never recorded.
Here's To The Ladies
An album on which Sinatra had begun recording selections for before deciding that the concept behind the project was aged and unviable on the record market. Both Sinatra and longtime collaborator Nelson Riddle congregated in studio in 1977 to begin working on an album with the tentative title of 'Here's To The Ladies," with the concept centered around songs involving women's names. Five selections were recorded before Sinatra abandoned the project. With a falling out with Nelson Riddle following in the two years or so to come that would last until the mid-1980s, the failed album would be the last time that Sinatra and Riddle worked together in a studio.
Sinatra and Lena Horne
A massive recording project planned by Quincy Jones Productions in 1983 inspired by the deluxe package of Sinatra's "Trilogy" a few years' prior, this new album would be a deluxe package featuring three records and more than thirty songs. Remakes of some of each respective artist's classics would be featured, as well as a series of new songs, the music provided by both an all-star 17-piece jazz band (including Gerry Mulligan, Herbie Hancock, George Benson, Snooky Young, and Lockjaw Davis) along with a larger studio orchestra. Sessions were scheduled to commence near the end of February of 1983, and with momentum for the occasion building to an all-time high, multiple roadblocks began to appear simultaneously.
The death of musical director Don Costa was just the start of bad luck. Lena Horne soon developed a troubling nodule on her vocal cords, and while she recovered, the meeting to put finishing touches on the project before recording commenced was pushed farther and farther along. Soon, Sinatra went back on the road with his regular touring schedule, and once time came around to reschedule the meeting, the drive to make the album was lost on both sides. The project was cancelled, but resurrected in smaller form a year later with Frank and Quincy recording a truncated version, the album "L.A. Is My Lady."
Sinatra/Riddle
Sinatra and Nelson Riddle patched up their differences with each other by the mid-1980s, with Sinatra inviting Riddle to arrange and direct the orchestra for the second Reagan inaugural. During this time, Sinatra became interested in going back into the studio with Riddle to record some music he had missed along the way. The project would soon expand itself to rival the size of Trilogy with three records planned. Riddle was highly excited to work with his old friend again, and it was said during this time in both of their lives, the forthcoming album was a hot topic in both of their respective social circles.
Sadly, it was not to be. Nelson Riddle passed in October 1985 at the young age of 64 from complications related to liver cirrhosis. He seemingly worked on the new Sinatra album nearly right up to the end. When Riddle's children began to clean up his writing studio after the passing, new charts for the Sinatra album were sprawled across his desk.
Wee Small Hours Revisited
Wanting to work exclusively with Sinatra, producer Phil Ramone mulled over a series of ideas, including new albums. Although he would eventually get Sinatra to agree to the concept of doing the "Duets" albums, Ramone's dream project harkened back to the concept and theme of "In The Wee Small Hours." His idea was to bring Sinatra together with a small jazz combo and light string section, to record a selection of ballads.
Although it's unclear if a song selection was made or if the concept was even presented to Sinatra, it can be concluded that, due to Sinatra's advanced age and failing mental facilities by the beginning of the 1990s, the project would be somewhat impossible to complete. With "Duets," they were working with material that Sinatra knew well, much of which he was performing in concert at the same time, and with all involved wanting Sinatra as much at ease as possible when working on one of these projects, it was decided that a "Duets" project would warrant the best outcome. Coincidentally enough, when they were released in 1993 and 1994, respectively, "Duets" I & II would become the biggest selling albums of his career.
Duets III
When the original contract for the "Duets" albums were drawn up, the plan called for three albums. While there was no notice or announcement for a third duets release, it was widely thought for a while that Capitol Records would be releasing, as a third disc, Sinatra's complete solo recordings of the songs used for the albums, before duet partners were electronically added. While the solo recordings would find their way into the public, traded privately as a bootleg in America and released on several low budget labels throughout Europe, they were never given an official release.
Until next time, Sinatra lovers!
Jerry Pearce is an amateur singer in the vein of Frank Sinatra, Perry Como, and Dick Haymes and has released two discs of standards music, Crossroads in 2010, and One Summer Night in 2016. Samples of his music can be heard on his YouTube Channel. To purchase his CDs use the form box below.
[si-contact-form form='3′]