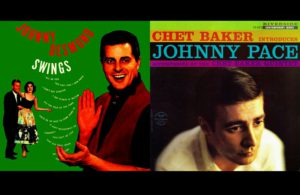 By Jerry Pearce
Swing is the thing this time around on "Pearce's Picks," and we feature two rare titles performed exceptionally by two obscure singers whose work, with thanks to the advent of music downloads, have survived into the twenty-first century. It was 1958. There were two men with the first name of Johnny, one on the West Coast, one on the East Coast. One at the beginning of the year, and one at the tail end, they both set out to make some great music.
Johnny Desmond Swings (1958)
For many years, due to his military service and breakout popularity as the featured vocalist of the Glenn Miller Army Air Force Band, singer Giovanni Alfredo de Simone, better known by his stage name of Johnny Desmond, was given the honorable title of the "G.I. Sinatra." Never quite reaching the heights of his more famous colleague, Desmond nonetheless had a prolific recording catalogue, spanning across more than a half dozen labels with successful singles and memorable albums.
In between two high-profile contracts with Coral and Columbia Records in the late 1950s, Johnny Desmond recorded this album, "Swings," for the burgeoning "drugstore record" TOPS label in California. Backed by an eighteen-piece big band assembled and produced by music legend Dave Pell, this album, recorded in January 1958, is a swingin' good time. Twirling the baton before the orchestra, with charts written both by himself and colleague Bill Holman, the album is credited to "John T. Williams." Yes, you're familiar with that name. Before he became unanimously known as a dynamic film composer (having worked with Steven Spielberg throughout the bulk of his Hollywood output as well as several other high profile Hollywood personalities), John Williams began his career writing for jazz, and this release proves quite well that the composer is adept at arranging in any style!
Released under many different titles and labels on LP following the folding of the TOPS label, as well as a superb compact disc porting over the original cover with extensive liner notes in the 2000s, this album compares favorably with any of the work Sinatra released with arranger Billy May, Desmond riding atop the bright swing of the orchestra through several snappy tunes, including "There's A Small Hotel," "It's The Talk Of The Town," "Old Devil Moon," "It Ain't Neccesarily So," and "The Last Time I Saw Paris," only slowing down to deliver the one true ballad of the set, the silky "Tenderly." The CD issue even includes a small prelude in which we hear Johnny and the orchestra warming up in studio, with Williams faintly heard in the background counting off the band before they launch into "Hotel." Although we lost Desmond's polished baritone at the age of 65 to cancer in the mid-1980s, his catalogue is a rich one, and should be investigated beginning with this release. Available for digital download at both iTunes and Amazon Music. 5/5.
Chet Baker Introduces Johnny Pace (1958)
Indeed, this album can be looked at as both an introduction as well as a swan song. The only title this singer from Paterson, New Jersey ever released, master trumpet player Chet Baker saw promise in the voice of the twenty-nine-year-old jazz singer, and arranged for Pace to record his debut as a part of the horn player's Riverside Records contract.
Backed by an ultra-hip quintet that includes pianist Joe Berle, bass player Vinnie Burke, legend Philly Joe Jones on drums, flutist Herbie Mann, and Baker himself delivering inspired solos with his trumpet, the album was recorded at Reeves Sound Studio in Manhattan throughout the Christmas week of 1958, and from the first finger snap of the delightful "All or Nothing at All," the listener is in for a jazzy affair. Although comparisons in singing have been made by critics to Sinatra since the album's release, Frank-inspired vocals are only heard very faintly. Although Pace's biography is vague and sketchy (he passed at the age of fifty in 1979), intent listeners have agreed in the years since the album's release that Pace swings with a style all unto his own, a phrasing that one thinks with additional studio time, would have developed even further.
Pace's voice isn't particularly strong in comparison to other jazz/standard baritones, but he excels at stretching his vocals for their worth, particularly notable in his interpretation of "Crazy She Calls Me," written by Carl Sigman and Bob Russell. Written nearly a decade before and made famous in a female-sung-to-male version by Billie Holiday ("Crazy He Calls Me"), Pace's version is one of the few male-performed renditions sung about in reference woman on record. Other notable performances on the album include a swinging "The Way You Look Tonight," featuring particularly nice fluting by Mann, as well as an emotional reading of Jerome Kern's "Yesterdays" that brings the album to a gentle close.
Due to the involvement of Chet Baker, whose material has been in high demand since the trumpeter's tragic death in 1988, the end result to a nearly life-long addiction to heroin, Johnny Pace's singular time before the microphone has been reissued numerous times in the intervening years, and is available via digital download on iTunes and Amazon Music. 4/5.
Be on the lookout for new "Pearce's Picks."
Until next time, music lovers!
Jerry Pearce is an amateur singer in the vein of Frank Sinatra, Perry Como, and Dick Haymes and has released two discs of standards music, Crossroads in 2010, and One Summer Night in 2016. Samples of his music can be heard on his YouTube Channel. To purchase his CDs use the form box below.
Comments or questions are welcome.