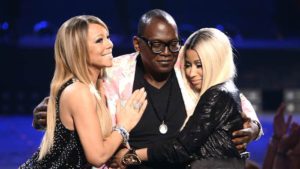 By Kristi O'Toole
Taylor Swift sang about having "bad blood" that "used to be mad love" but Mariah Carey and the producers of American Idol are living those words. Speaking to journalists at the Television Critics Association's summer press tour on Wednesday (Aug. 3), where Carey was promoting her eight-part upcoming E! docuseries, Mariah's World, the singer threw a major jab at the once formidable Fox show — for which she was a judge alongside rapper Nicki Minaj, country star Keith Urban and producer Randy Jackson during season 12 — calling it "an abusive experience" and cracking that talking about it would drive her "to drink."
Certainly, the moment elicited uncomfortable laughs in the ballroom of the Beverly Hilton Hotel, but what did her American Idol producer Nigel Lythgoe think?
"I'm looking forward to Mariah's new series and wondering if Nicki Minaj may guest," the ex-executive producer said, in what's a not-at-all-veiled reference to the on-air disaster that was the singers' infamous verbal spat during auditions in 2011. Subsequently bad vibes lasted all season long.
The Brit does speak the truth, however: Mariah's World, unveiled for the first time via a newly released trailer, is about as titillating as reality television gets.
More to come, undoubtedly.
When Kristi isn't writing for NewzBreaker, she writes supernatural suspense novels having three currently published. If you would like to check out any of her books they can be found online and at other major retailers like Books a Million and Amazon. Never one to rest, she also paints/designs shoes and items for the home. Check out her eBay store, Watered Down Vodka and her FB page.
Comments or questions are welcome.