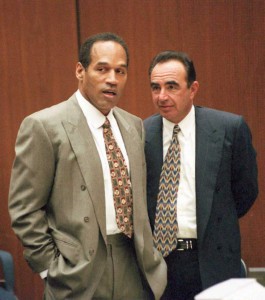 By Kristi O'Toole
With the infamous case now decades in the past, it has recently been thrust back under the public microscope after being the subject of Ryan Murphy's fascinating anthology series, American Crime Story. During a recent interview with Fox News Megyn Kelly, Shapiro finally revealed what Simpson had whispered in his ear after the verdict was delivered. "You had told me this would be the result from the beginning. You were right."
Shapiro said he had been sure from the very start that his client would go free. How could the now 73 year old defense attorney have been so sure? The glove of course. Shapiro admits to trying on the bloody glove.
He explained:
"The glove was a little bit wide in my palm and a little bit wide in my fingers. O.J. Simpson has enormous hands, and I knew that glove would not fit him. No question about it. Wouldn't even be close."
When asked if he truly believed Simpson was innocent, Shapiro said, "There's moral justice and there's legal justice. And when that not guilty verdict, uh, was rendered, I felt legal justice was done. As far as moral justice, I haven't discussed it with anyone, including my wife."
Acknowledging the legal system isn't always fair, Shapiro added, "Our system of justice is one that's balanced. We hope and pray that innocent people are never convicted. And the price we pay is that sometimes guilty people can and do go free."
Guilty people as in O.J. Simpson? I guess the answer to that is subjective, I'd be surprised to find one person that didn't have a verdict of their own. Personally I never thought he did it; not to say he wasn't involved.
When Kristi isn't writing for NewzBreaker, she writes supernatural suspense novels having three currently published. If you would like to check out any of her books they can be found online and at other major retailers like Books a Million and Amazon. Never one to rest, she also paints/designs shoes and items for the home. Check out her eBay store, Watered Down Vodka and her FB page.
[si-contact-form form='3′]