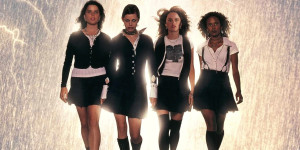 By Kristi O'Toole
Some movies are best left as they were, no remake necessary or wanted.
And that's exactly what's happening with The Craft. Sony announced last May a remake of the 1996 cult classic about four teenage girls — Bonnie (Neve Campbell), Nancy (Fairuza Balk), Rochelle (Rachel True), and Sarah (Robin Tunney) — who form a coven at their Los Angeles Catholic prep high school, casting spells and using their powers on fellow classmates who've wronged them.

But that remake apparently isn't a remake at all. Instead, the new movie, which has no actors attached or release date scheduled yet, will pick up 20 years later, according to Douglas Wick, producer of the original and upcoming movie.
Somehow I don't think middle aged witches will have the same appeal the young dolls did. But, all of that remains to be seen.
When Kristi isn't writing for NewzBreaker, she writes supernatural suspense novels having three currently published. If you would like to check out any of her books they can be found online and at other major retailers like Books a Million and Amazon. Never one to rest, she also paints/designs shoes and items for the home. Check out her eBay store, Watered Down Vodka and her FB page.
Comments or questions are welcome.