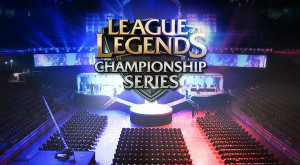 By DeShawn Harry
What up fam! Coming at you with my thoughts on the North American and European LCS finals. I'll save the best for last and start with the EU finals. Veteran packed Origen Vs. the newly formed G2. Xpeke's Origen has had an impressive run in their young LCS career, having a 9W-1L challenger series run to qualifying from the world championship and making it to the semi finals. G2 made their LCS debut in the 2016 regular season and making a name for themselves. Finishing the season on top with a convincing 15-3 record, this series was shaping up to be a barn burner.
Now on paper this series didn't look all too great for Origen with G2 having two convincing wins over the team in the regular season, but if the playoffs have taught us anything it's that anything can happen. *cough* TSM's 3-0 over Immortals*. Game one had G2's trick and Perkz coming out to play some league of legends, showing that they can live up to the claim of being G2's best players. Game two was the game OG was looking for. Amazing having a perfect kindred game with Powerofevil and Mithy making sure all the team was fed. Game three was a run away in terms of gold income, though OG had almost comparable kills G2 kept control on the map only giving up 1 tower in the game.
Game four looked like Origen was going to take it to a game five! Swapping Xpeke in for Powerofevil was proving to be a good move when the star of G2 Perkz was 0-3 in the beginning of the game and the gold difference greatly favoring Origen. In what was going to be one of the last team fights Trick pulled off an amazing baron steal that would give G2 the pushing power they needed to end the game after getting a pick on Xpeke ending OR's run and giving G2 that 1st place spot and a trip to Shanghai to compete on behalf of EU at MSI.
The North American LCS series in my mind should have been Immortals vs. CLG but TSM pulled the upset of the century and 3-0 immortals to have a run back of the last season finals grudge match. It delivered 110%. TSM and CLG have stirred up a bit of turmoil with some rosters changes at the beginning of the split with TSM taking CLG's veteran carry Doubelift. TSM came in with an almost brand new roster, aside from the star mid-laner Bjergsen, this season. It was not the easiest split for them finishing 9-9. But with TSM's unbelievable run through the playoffs it was their time to shine once more on the grand finals stage!
With new life respired in the carry role for CLG they managed to finish second in the regular season and were the only team to show LCS fans that immortals can bleed.
TSM has always been NA's favorite team and long time rivals CLG would love nothing more to defend their titles of LCS split champs against them, especially CLG's new carry Stixxay! Game one was the slug fest everyone thought these two teams would have. Only ending with a losing baron fight for CLG but the minion waves were so heavily in CLG's favor that TSM couldn't defend all the super minions bashing the nexus resulting in a CLG win. Game two was a not as close as the previous game with TSM flexing on CLG 28 minute win.
Game three CLG fires back with a mounting gold lead that couldn't be stopped by TSM. the last two team fights were something to remember they were so chaotic and spread out TSM winning the first fight in an ace and CLG coming back with a mid lane fight that really looked like it would have gone in TSM's favor but CLG clutches a win. Game four was the TSM show as it was in game two with Bjergsen, Hauntzer, and Yellowstar having perfect games. Game five was a nail bitter for both TSM and CLG. The last team fight resulted in TSM making a really bad forced engaged and CLG's Stixxay throwing out fat deeps with the rage blade Tristana and cleaning up the fight to make CLG the defending LCS split Champions and the trip to MSI.
MSI will sure be a sight to see and I'll have my thoughts after it premiers May 4th. Until then I hope to see you on the rift!
Comments or questions are welcome.