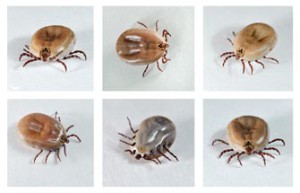 By Cyndi Crossland
Ticks started attaching to our K-9 friends early this year, probably due to our mild winter. Several of our human friends have found them attached to them already. It only takes one tick bite to infect your dog; some ticks can carry more than one disease.
In rescue we see a lot of flea and tick infestation. Some are so bad the dog is very ill. Ehrlichlosis is common in dogs we rescue. It is transmitted by the common brown dog tick. The symptoms of Ehrlichlosis may not be obvious, if left untreated it can become a chronic infection. The dogs we have encountered with this disease are usually very underweight and experiencing nose bleeds.
Unfortunately we are finding the topical preventative is not working as well as they once did. The manufacturer of these medicines are coming out with new and improved preventative. The oral meds last longer and do a better job. They are also easier to administer to your pets.
Ticks are not only a danger to your dog; they are also a danger to you. There are at least 15 diseases humans can get from a tick bite. The most common one would be Lyme Disease which can leave a lifetime of debilitation in its path.
Please protect your dog from ticks, there are several preventatives you can use to keep them from getting ticks, find one that is affordable and works for you. If you cannot afford preventatives, please look for and remove ticks when you find them, (be sure you get the whole tick) bathe your dog in a good shampoo that helps prevent bites and look in their ears, ticks love the warm and darkness of the ears.
Check out Fur Babies website and their Facebook Page Fur Babies Adoptions and Rescue.
Comments or questions are welcome.